National Parent Group ParentsTogether commissioned artist to create protest installation within Minecraft, released digital ads targeting Microsoft employees, and mobilized 120,000+ calling on the tech giant to keep kids safe
Petition: https://parents-together.org/minecraft-petition/
May 26, 2020 (Washington, DC) — National parent group ParentsTogether announced a campaign to protect children from sexual predators on Microsoft's Minecraft. The two-million-member parent-led organization called on Microsoft to make changes to the popular game's chat function where predators frequently engage with and exploit children. Specifically, ParentsTogether is calling on Microsoft to add human moderators to the game's group chats and limit private messaging, where the illegal predation often occurs, to older teens and adults.
After more than 120,000 parents nationwide signed a petition demanding greater safety for children, ParentsTogether commissioned an artist to create an installation within Minecraft. The installation, a giant two-sided wall, reads "Sexual predators are hunting kids on Minecraft!" on one side, and "Minecraft is ignoring 120,000 parents asking them to keep kids safe" on the other. It is currently viewable on the UnraveledMC server (unraveledmc.com) at the XYZ coordinates 1681.851 / 119.73653 / 1820.818. Video footage of the installation is available upon request.

The group is also deploying micro-targeted Facebook ads aimed at Microsoft and Minecraft employees. The ads, which began running on May 20, have reached more than 14,000 Microsoft and Minecraft employees.
ParentsTogether delivered their petition to Microsoft via email on April 30. On May 22, the group received a response from the company, but no commitment to resolve the issue. Meanwhile, law enforcement across the nation are flagging that they are not equipped to handle a surge of sexual predation online, which has quadrupled during the pandemic. In March, the FBI warned parents that COVID-19 school closures created an increased risk of online sexual exploitation and the New York Times' reported that games like Minecraft are "hunting grounds" for sexual predators.
"Minecraft knows that predators are all over their chat, coercing kids into sexual interactions. But they aren't stopping it," said Justin Ruben, Co-Founder of ParentsTogether. "With more children than ever online during the pandemic, there's no excuse. Tech companies need to fix problematic features on their platforms that put our children at risk."
Last month, ParentsTogether conducted a survey of more than 3,000 parents that showed nearly half of respondents' kids (48%) were spending more than six hours per day online — a nearly 500% increase from before the crisis.
Below, please find a sampling of testimonials from parents whose kids have been targeted on Minecraft:
Creepy people trying to contact my kid on Minecraft. My kid asks about it, and I block them. Fortunately my kid knows to ask me.

Connie, CA
My daughter, 6 years old, plays Minecraft a lot and I had to block the game. I would read a lot of the messages and they would tell her they're not going to be her friends if she doesn't send them pictures.

Leslie, IN
Artist installation: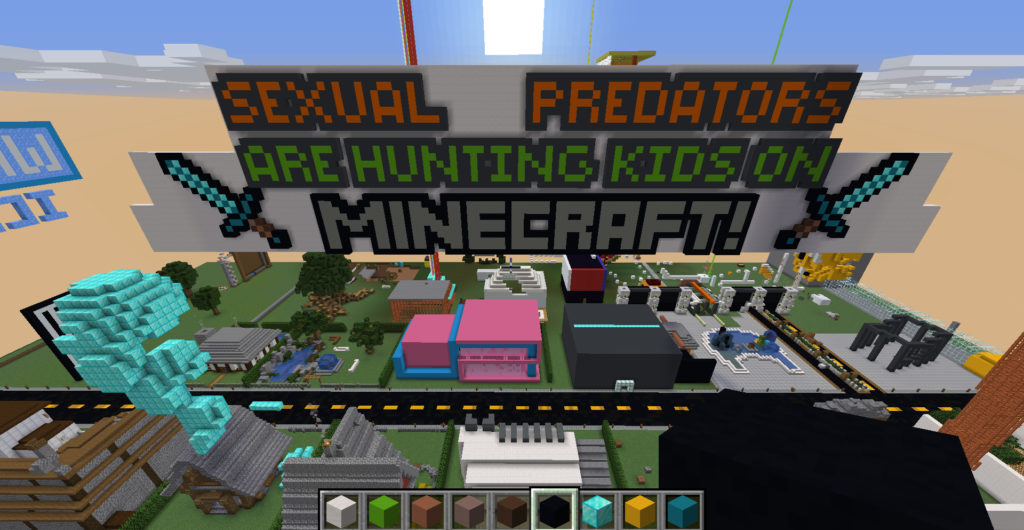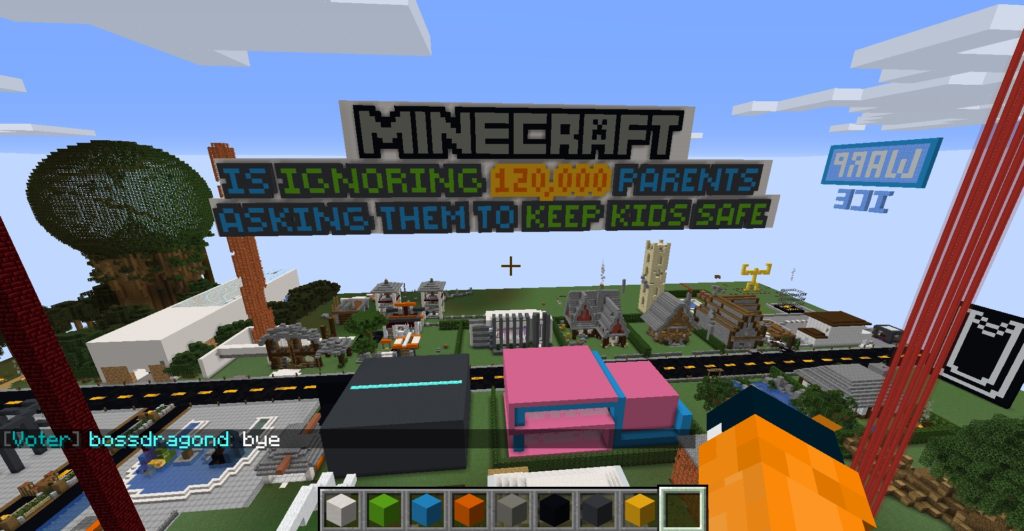 Facebook advertisement: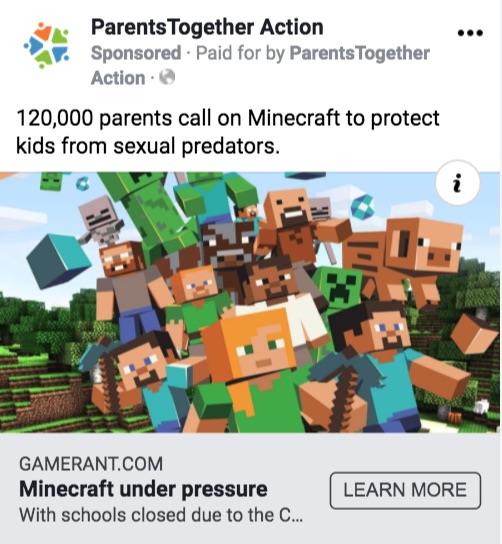 About ParentsTogether: ParentsTogether is a national, parent-led organization with over two million community members from coast to coast working together to build a world where every child and family can thrive. Our membership is socio-economically and racially diverse, and includes parents from every state. For more information, contact Kayla Ritchie at [email protected].