Monthly Child Checks are about to expire! Tell Congress to act NOW!
On July 15, the IRS began issuing monthly advanced tax credit payments to millions of families – up to $300 for each child age 5 and under, and up to $250 for each child ages 6 to 17. These much-needed payments, or "Child Checks," made it possible for parents to pay for critical things like food, prescriptions, utilities, rent, child care, and school supplies. For families across the country, these Child Checks have been nothing short of a lifesaver after nearly two years of pandemic stress and struggle.
The expanded Child Tax Credit (CTC) is one of the most powerful tools we've had in the last 50 years to fight child poverty in our country (it's been estimated that it could cut child poverty in half). But here's the urgent challenge: The FINAL monthly payment is scheduled to start being distributed on December 15, 2021. (After that, families will have to wait until after they file their 2021 taxes to receive an additional tax credit, and the families who don't make enough money to file taxes and most need the help will no longer be eligible.)
The House of Representatives has already passed the Build Back Better (BBB) package which includes extending the expanded Child Tax Credit so families can continue receiving child checks. Now, it's up to the Senate to do the same. If BBB doesn't pass, millions of families will lose the monthly child checks they've relied on to keep their heads above water. That's why ParentsTogether, a national nonprofit organization, needs you to help get as many people as possible to tell Congress that low- and moderate-income families need this ongoing support until their kids turn 18.
What are creators being asked to do?
Create ONE TikTok video to be posted by Dec 18th urging people to send an email to their Senators.

This video should highlight that Dec. 15th will be the FINAL monthly distribution of the expanded child tax credit checks *unless* the Senate takes action.
Child Checks have been a huge success! These monthly payments have reduced food insecurity and financial distress for millions of families. Parents don't want them taken away–especially at the holidays.
Followers will be asked to send a message to their Senators via an automated email messaging tool. This tool must be referenced by creators in the video and shared as a link in bio. (A customized link to this tool will be sent to each creator.)
This video must be cross-posted to the creator's Instagram account.

Create ONE preemptive TikTok video celebrating Congressional passage of the Build Back Better package which would extend child checks.

The key message here is that Congress delivered for families by passing Build Back Better.
This bill is going to make a huge difference for parents and kids, thanks especially to monthly child checks.
Together, we are powerful! Our efforts helped make this win happen!
This video must be cross-posted to the creator's Instagram account.
Creators will post this video ONLY in the instance that Build Back Better passes the Senate, though the creative will ideally be fully approved and ready to launch ahead of that time.
Creators will still be paid for their labor on this video even if Build Back Better does not pass.
Campaign Timing
Because the Senate is poised to pass Build Back Better and extend child checks anytime between mid- to late-December, time is of the essence! Creators' first videos urging people to email Congress requesting the extension of the expanded Child Tax Credit must be posted no later than Wednesday, December 15, 2021.
The second video celebrating passage of Build Back Better will be posted in accordance to the bill's approval in Congress. Exact posting date TBD (but creative will be produced and approved for posting well in advance of going live).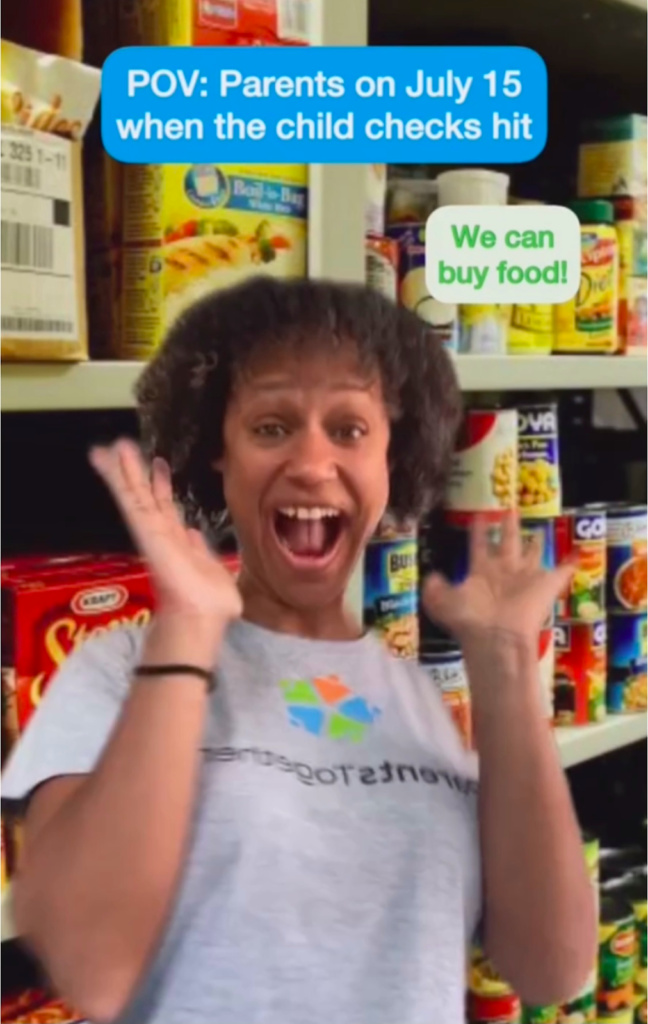 Will creators be compensated?
YES!
Invited creators will be paid the same base rate they received previously for TikTok content in our Child Checks campaign. Creators will also receive compensation for cross-posting videos to Instagram. These rates will be confirmed via individual communication between creators and PaKou Her, ParentsTogether's campaign manager.
Video Specifications
Video 1 must be posted by December 18, 2021, though posting earlier than that is encouraged.
Video 2 must be posted promptly after the passage of Build Back Better. Because this depends on what happens in the Senate, this could be anytime between mid-Dec to early January. Creators will hold on posting Video 2 until they are given the green light by ParentsTogether (though video content must be produced, fully reviewed and edited, and approved by December 17, 2021).
All videos are subject to brand review prior to posting. Brand review may require re-shoots. **Please allow 24-36 hours for brand approval prior to posting.**
Videos may be whatever length is suitable for your followers and brand.
Videos must be filmed vertically.
Videos must contain captions. (This is easy to do with TikTok's auto-captioning feature. Note that captions can be edited once they've been generated.)
Videos may NOT contain children, additional branding information, or overtly partisan politicking, rhetoric, or grassroots lobbying.
Video caption must include information about ParentsTogether's email messaging tool telling Congress to make Child Checks permanent.
Creator bio or Linktree must contain the link to ParentsTogether's automated email tool. A custom link will be sent to creators who commit to the campaign.
Creators must talk about sending emails to Congress in the video itself, in whatever way makes sense given the creative style and concept.
In the case that sample captions are helpful, you might consider the following examples:

Child Checks are scheduled to end THIS MONTH! Send Congress a message to continue helping families – link in bio.
Tell Congress not to take Child Checks away from families who need them! Send them a message – link in bio.
Every family – Black, Brown, or white – deserves help. Send a message telling Congress to protect child checks! Link in bio.
Tell Congress to extend Child Checks! Link in bio.
Child Checks will END *unless* Congress takes action! Tell Congress to extend Child Checks – link in bio.
About the #ChildChecks Campaign
THE OPPORTUNITY
The past year has been incredibly difficult for millions of families. To help parents make ends meet, ParentsTogether and many other organizations have been advocating for the Expanded Child Tax Credit, or "Child Checks" – monthly payments to parents to help cover the huge expense of raising kids.
In January, Congress passed and President Biden signed the American Rescue Plan (ARP), expanding the Child Tax Credit (CTC) for 2021 – allowing millions more parents to benefit and sending families regular checks for each child age 17 and under. It's a huge deal – but right now, Child Checks are scheduled to end in December unless Congress acts and not enough families know about it!
THE DETAILS
Before the ARP, the child tax credit was a refund parents got at tax time, if they paid taxes. Under the new plan, parents get more for each child and most importantly, they will receive the tax credit in the form of monthly payments that started on July 15. What makes this new policy especially transformative is that families do not need any earnings to qualify.
From July 2021 until April 15th, 2022, most families will get:
$3,600 ($300 a month) per child for children ages 0 to 5.
$3,000 ($250 a month) per child for children ages 6 to 17.
From July through December, payments will be distributed to families' bank accounts on the 15th of the month. Families will get the remaining $1,500 to $1,800 per child when they file their 2021 annual taxes in Spring 2022.
These child checks will reduce poverty, improve child outcomes, and deliver massive social benefits. Experts predict that this policy alone will cut child poverty almost in half! And it will be even more transformational for communities hit hardest by the pandemic, cutting Black child poverty by 52%, Native American child poverty by 62%, and Hispanic child poverty by 45%.
THE CHALLENGE
Right now, our focus is on making sure families get the support they need, for as long as possible. We know bills and expenses won't end in December, nor will families have magically recovered from the challenges of the pandemic. So ParentsTogether and many others are pushing to make sure the CTC expansion doesn't get taken away from families and, instead, is made permanent, so families get monthly child checks until their kids turn 18.
Congress is considering that proposal right now, and there is widespread support among Democrats – making a victory possible. ParentsTogether is organizing parents to demand Congress make this important policy permanent, and any interested creators are invited to continue collaborating with us on future actions.
About ParentsTogether
ParentsTogether is a nonprofit organization with the mission of providing the content and support families need. We cover the latest research, policies, and trends affecting kids and families, so busy parents have the information they need to help their families thrive.
We know that parents can be an unstoppable force for good. The work we've done has included: protecting kids from online predators; ensuring that hungry kids can get free lunch in schools; helping parents foster a growth mindset in their children; building a vibrant digital community to support parents during the pandemic; and turning out millions of parents to vote. These actions – and many more – have proven that incredible things happen when parents show up for their families and communities.
Parent-led and parent-powered, ParentsTogether reaches over 2.5 million parents across the country via Facebook Messenger, SMS, email, Instagram, Facebook, TikTok and web.