On May 4, ParentsTogether surveyed our members in NC about how they are faring economically during the coronavirus crisis. 1,283 parents responded to our survey by Facebook Messenger. 424 of these respondents have children under the age of 18 at home, and 209 of them are grandparents. Here's what they told us:
Toplines: North Carolina Families are Struggling, Making Hard Choices
North Carolina families are struggling. Half of respondents have lost income or expect to due to this crisis. 62% say they feel their family is struggling. 59% are having to make trade-offs between necessities like rent/mortgage payments, utilities, and food for their families.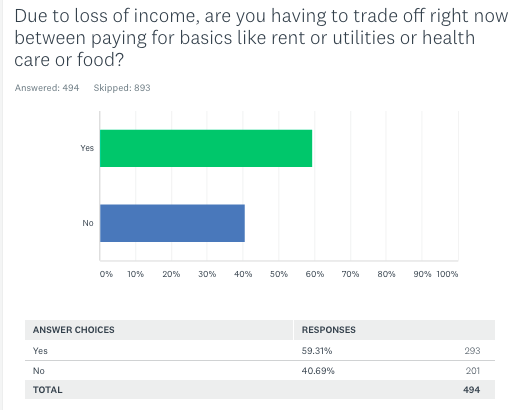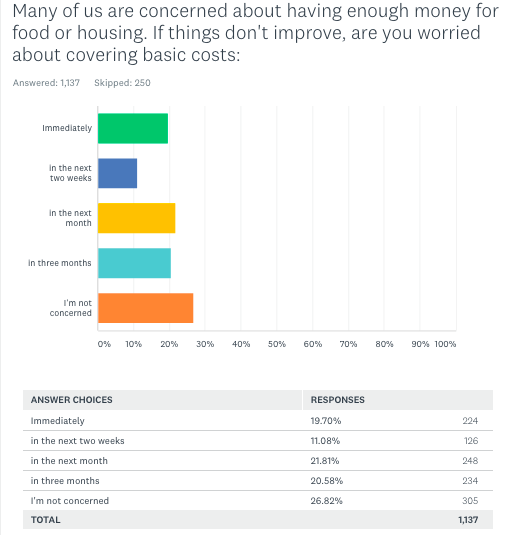 Unemployment benefits are not helping everyone who needs it:
48% of those who have lost income say they are not eligible for unemployment, and another 30% don't know if they are eligible or not. 60% of those who don't know have not applied.
Of those who believe they are eligible, most have applied, but report difficulties getting approved, problems with the online application system, and hours-long waits to talk to a real person. Of those who were approved, many have experienced waits of multiple weeks to begin receiving benefits.
People who are approved for unemployment currently receive federal funds on top of state benefits, but those won't last forever. Most say they would not be able to pay for even the basic necessities like rent and food if North Carolina were not to raise the current maximum of $350/week. 33% say they could not pay for necessities like rent and food. An additional 27% say they would "struggle a lot" paying for those necessities.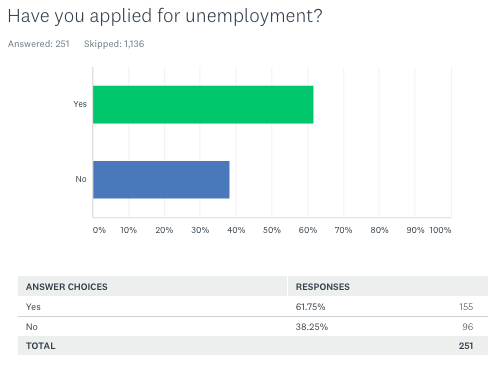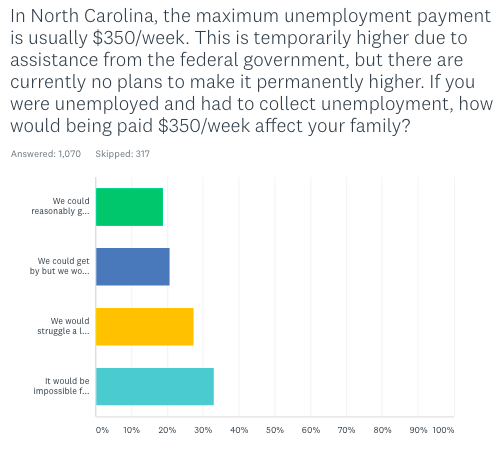 North Carolina families do not support opening up the economy before it's safe to do so:
57% of respondents say we need to "wait as long as it takes to open things up again to save lives, even if it hurts the economy." Only 3% support mass opening.
62% of those who have lost income or expect to – the people most impacted by closures – support waiting as long as it takes.
71% say that even if businesses like restaurants and non-essential stores were opened tomorrow, they would not start going back to them right away.

Family Voices:
I look at my account daily wondering when I'll be in the negative and asking how soon can I find work even at minimum wage just to make ends meet

Randall, Forsyth County
I thought I was struggling financially before this pandemic but it has become a crisis to our lives

Santina, Charlotte
[We're] barely making it and can't last much longer


Broadie, Durham County
I hope and pray people truly understand how serious this is, and the impact it can cause, but unfortunately I don't believe people will get it, until this virus hits their family. Hopefully by then, it's not late. I will say that I am scared this is gonna get a lot worse because everyone is acting like the virus is gone, or we have a cure. This week I have seen so many people go back to everyday life, like this virus isn't knocking at ur door with the Grim reaper.

Jennifer, Yancey County
I hope we can get through this crisis. I have so many bills that have to get paid.

Dorrem, Union County
I wasn't able to pay the rent last month and this month is looking like I won't be able to pay the rent either. I have 3 kids in the home and I can't work because I'm the only one caring for them while school is closed. I just got my food stamps approved so at least I don't have to stress about food but I do stress about utilities and rent and diapers because I also have a newborn is just a rough time to be unemployed.

Bianerca, Mecklenburg County
This is hitting us hard. We are living on $780.00 per month because my husband can't get through to unemployment to help us get our money somewhat together.

Sherrylee, Guilford County
I am having to drive my car on dead tags because I don't have the money to even get my car legal.

Barbara, Lee County
I got laid off March 15, filed weekly certifications and still haven't received any payments … Rent and utilities come first before my meds and food.

Della, Buncombe County
I have to decide between paying a bill.or buying more food. Either way one is going to suffer even though my kids need it all.

Kathy, Hoke County
We are eating a lot less. Rice and beans and tomato sauce. Ramen noodles. My child's clothes are too small but we can't get more right now. If things don't change, she may not have much for her birthday in July.

Kara, Nash County
I do not have income right now. I have applied for unemployment & it is still pending. I filed my taxes on April 1st. They are still processing. I have not received my stimulus either. I'm not able to pay any bills at this time. I applied for food stamps & am still waiting for my EBT card. Thankfully I have friends & family to ask for help with food.

Carol, Rutherford County
I'm behind on rent and lights because we had to buy food and other necessities. This is such a stressful time.

Charnelle, Mecklenburg County