You may have heard people talking or seen headlines about the strain parents of very young kids have been under since the start of the Covid-19 pandemic. Of course most of us have suffered and made sacrifices, juggled childcare closures and working from home with kids underfoot. So you might have wondered—what's so different about their situation?
One mother of two summed up the situation perfectly in a Facebook post.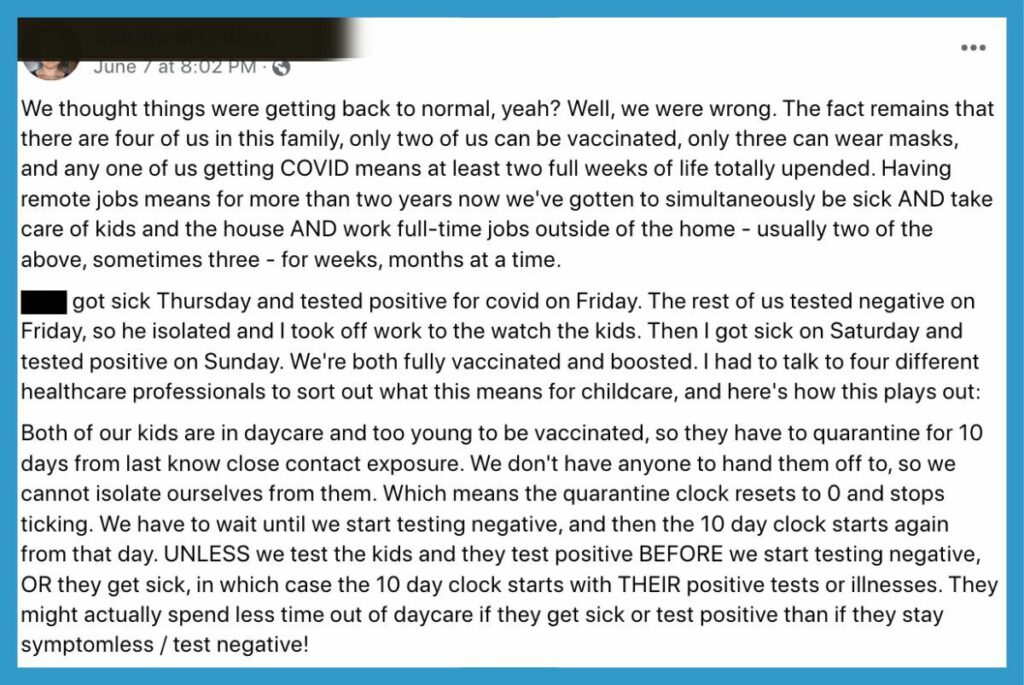 This mom, who we'll call Sarah, wished to remain anonymous but generously gave us permission to share her story. It's a story that validates the experiences of other parents of kids under five years old, and one that will likely be eye-opening to others. It's the story of why these parents are "beyond angry, beyond burnout, beyond done."
Sarah's story
Sarah's story is similar to that of many young families. In her family of four, only two of them have been eligible to get vaccinated so far, only three can wear masks, and they've almost entirely lost any protection from the community in the form of the widespread distancing or masking that was common in the first year of the pandemic.
Each time someone in the household is exposed to COVID or becomes sick, their lives are upended for multiple weeks of quarantine. In their most recent bout with the illness, both parents became ill and it took coordination with four different health professionals to figure out what they needed to do in regard to childcare. The answers weren't easy.
First comes the challenge of getting the kids tests. They had to schedule PCR tests, because "you can't just walk up to a free testing site with a kid under 2, there are only a handful of places that will even test them" she explained. Not to mention, parents in this situation often have to take their kids to these appointments themselves, while also managing their own illness.
Then comes the dizzying quarantine math—since both kids were, at that time, too young for a COVID vaccination, they were required to quarantine for 10 days from the last known exposure. However, given that Sarah and her partner are the only available caregivers and they'd tested positive, the kids' were re-exposed every day, which restarted their quarantine clock. "We have to wait until we start testing negative, and then the 10 day clock starts again from that day. UNLESS we test the kids and they test positive BEFORE we start testing negative, OR they get sick, in which case the 10 day clock starts with THEIR positive tests or illnesses. They might actually spend less time out of daycare if they get sick or test positive than if they stay symptomless / test negative!"
Confused and overwhelmed yet? So is Sarah's family. Working from home would seem to be a helpful reprieve for families with kids too young to be vaccinated, but Sarah explained how difficult working from home actually is while parenting toddlers. "There are only so many times I can yell at my 4 year old to go away while Mommy works, only so many times I can get up to pry the cat's tail / a fork / choking hazards out of my toddler's hands only to see him sprint over to my work laptop and smear his sticky hands all over it. Multiply that by a dozen, a hundred, a thousand, and you get burnout."
This years-long back-and-forth of trading time off work with her husband, in between frantically juggling daily responsibilities, has put an enormous burden on them and many others with young children.
And yet, it's even worse for some other families
In the recent scenario Sarah outlined, the earliest they could hope to have their kids back in daycare would be June 20—over two weeks after they were last in childcare with both parents working. That's a long time to handle two small kids at home while you're working and fighting off your own illness, but Sarah recognizes that it could be worse.
"If I were a single parent, that would be all me."
Not only does she have support from a partner, but she also notes that they're fortunate to be able to work from home. Many families don't have that option, which causes even more upheaval in their schedules or possibly even job loss, and many parents can't afford the money lost paying for childcare that kids suddenly can't use for weeks at a time. From mental and physical health to finances, this problem affects every part of young families' lives.
What's next for families with young children?
After two years of constant risk evaluations and logistical calculations, Sarah and her husband—along with so many other families with young children—are angry and impatient for a change. The long-awaited under 5 vaccine is finally rolling out, which will be a major relief for families with little kids, but for many like Sarah, the burnout has already taken its toll, and bouncing immediately back to normal is no longer an option.
The Centers for Disease Control approved both the Moderna and Pfizer vaccines for kids under five on Saturday, and vaccinations began on Tuesday. Parents interested in getting their children vaccinated can now do so at pediatricians' offices and pharmacies across the country.
Parents of young kids have been eagerly awaiting this moment for over two years now, and ParentsTogether's very own staff is celebrating this major milestone in the road to COVID recovery. While parents might need some time for the relief to sink in, it's a long-awaited marker on the road to our country's recovery.