When we heard about hurricane Maria and the severe devastation it brought to families living there, it hit home for us. We have friends with family in Puerto Rico, and they were in agony while waiting for news from relatives on the island. We wanted to do something tangible, and I especially wanted to do it together with my eight year-old son and our neighbors.
A Group Effort
I started spreading the word about a bake sale for Puerto Rico, and it was inspiring to see the whole block spring into action. The fourteen-year-old next door whipped up a batch of peanut-butter cups. My son and two neighbor girls got to work on Rice Krispie treats. My son's friend produced signs to post on street corners, and our most fearless ten-year-old took over a microphone at a nearby performance to send people our way.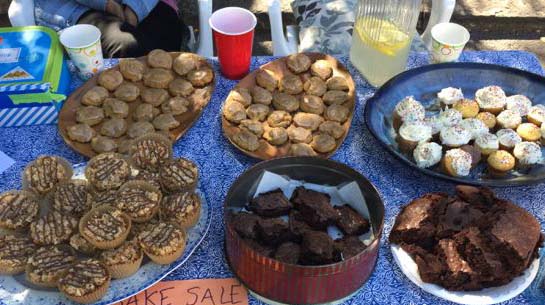 Throughout the day of the sale, people I didn't even know showed up with a smile and a plate of pumpkin cookies, fudge, or cupcakes–or extra cash–to donate.
The Outcome
The kids did most of the selling, and at the end of the day, we had $400 to split between two organizations: Unidos por Puerto Rico (organized by the first lady of Puerto Rico), and the Hispanic Federation's Puerto Rico fund. We chose those two from this helpful list provided by PBS.
Here are some of the things that made our bake sale a success.
10 Tips for a Successful Kid-Friendly Bake Sale
Don't do it alone! Involve friends and neighbors.

Post on Facebook or a local email list ahead of time asking for donations of baked goods and volunteers.

Make big signs so people know what it's for.

Make everything the same price, like $1, and include that on your signs.

Find a location that sees a lot of foot traffic, like busy corner or a playground.

Bring a table and a few chairs, napkins, signs, markers, and masking tape.

Designate a box for the cash and stock it $20 in fives and ones to start

Give kids jobs to do, like:

making signs (even little ones can help decorate)

making lemonade

helping to do the baking

handing out napkins

counting money

Sell drinks–water, lemonade, juice boxes–since sweets make people thirsty (and bring a cooler with ice and cups).

Teach kids to engage passersby with a simple sentence like, "Excuse me! Want to buy a brownie or make a donation for Puerto Rico?"
Why It's Important
When kids are engrossed in bake sale activities, you can also talk about what the money will be used for — e.g. drinking water, restoring electricity, temporary housing for families who lost their homes, etc. This was a great way to inspire our crew to sell more baked goods, and it was a good lesson about helping out when other families are in need.
Given the scope of the disaster in Puerto Rico, we know it'll take more than individual donations to meet the island's many urgent needs. Doing something like this brings attention to the issue, and we can all follow up by urging our elected officials to prioritize Puerto Rico's recovery. 
Share these tips today and inspire your neighbors to join you in a bake sale!