Ailen (Nani) Arreaza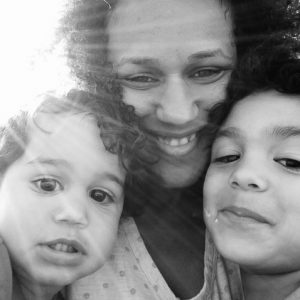 Product & Creative Director
I am mami to two handsome and rambunctious boys. When I was pregnant with my first, I read everything I could get my hands on about birthing and raising a child. I was disheartened to find that the U.S. lags behind the rest of the world when it comes to issues like parental leave and childcare. I believe in ParentsTogether because I know that parents can be an unstoppable force for change. Together we can raise the standard of support for all families and children in our country.
I have ten years of experience in City Government, where I worked to promote and enforce equal opportunity in some of Charlotte's most marginalized communities. I am also a regular contributor to Creative Loafing Charlotte, where I often write about issues affecting parents and families. I am originally from Cuba and speak Spanish at home.
Bethany Robertson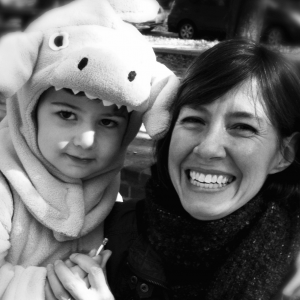 Co-Founder & Co-Director
One of the best things I did as a new parent was to join a local group of moms who have kids the same age as mine. Four years later, these eight amazing women have been my on-call support system, my go-to resource guide, and my confidantes. Turns out – being part of a supportive community makes the parenting load a whole lot lighter.
I believe in ParentsTogether because I know there are so many ways we can support one another through the joyful highs and occasional lows of raising our children, and I'm committed to helping strengthen communities of parents around the country.
I've worked as a social entrepreneur for 15 years, after starting my career as a student teacher in Detroit Public Schools and then working with the National Head Start Association and DC-based College Bound. In 2001, I launched the I Do Foundation – a national nonprofit that has helped hundreds of thousands of couples use their weddings as an opportunity to raise money for charity.
A Michigan native, I live in Washington, DC, with my partner and two kids under five. We live in an apartment building with several dear friends and family members who treat our kids like their own–which keeps me both sane and eternally grateful.
Justin Ruben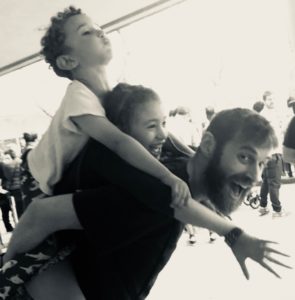 Co-Founder & Co-Director
This past Halloween, my five-year-old daughter dressed as a zombie-fairie-princess.
It struck me that her costume captured the essence of being a parent—it feels magical, beautiful, scary, and, occasionally, like something's trying to eat your brain.
Parenting is not for the faint of heart. But one thing I've learned is that things always go better when I have help. And that I, in turn, can lighten the load for others. That's what ParentsTogether is about.
I've also found that lending a hand to other families–on our own block or around the world–is the best way I know to show my kids what it means to be human. That's another reason I'm so excited to be part of this effort.
Before ParentsTogether, I worked on issues like economic inequality, health care reform, climate change, and peace as the director of the national progressive group MoveOn.org. I began my work as an organizer with GreenCorps, did environmental justice work in California's Central Valley, and was a union organizer in my hometown of New Haven, Connecticut.
My partner, Autumn, and I are blessed to be raising two generally amazing, occasionally infuriating kids, and two often-infuriating, occasionally amazing dogs, in Brooklyn, NY.
Cindy Day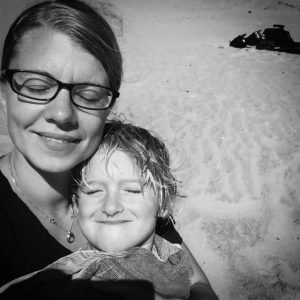 Senior Director of Product Management
As a parent, I've often felt the drive to support parents and kids in my Brooklyn community. When my son was two, I started a preschool cooperative with a talented teacher and some other neighborhood parents. We made a loving, creative, fun environment for our little group to thrive in. It was an inspiring experience for me, and I'm thrilled that ParentsTogether's mission is to bring parents together to support each other in a similar way.
My first job out of college was at ParentTime.com — a long-gone digital version of Parenting magazine. I learned HTML and Javascript and switched from editing to front-end Web development, and then to project and product management. At The New York Times, I helped launch redesigns of the Arts, Opinion, and Business sections, the recipe database, and Crosswords (so fun!).  At Condé Nast, I worked as the Director of Product Management for Glamour, Vanity Fair, and Vogue.
My son is now in elementary school, and he's an amazing combination of a rock-star-in-training (he's a drummer), and a sensitive, thoughtful kid who loves our new kitten.
Bonnie Chin Washburn
Director of Finance and Operations
I believe in ParentsTogether because I know that as parents, we all need some help and support.  Issues like paid family leave and affordable child care are an ongoing challenge for many.  Together, we can effect change.
Prior to joining ParentsTogether, I worked in financial services, management consulting, city government, and special education with a focus on business process improvement.  For the past five years, I have worked as COO at the Museum of Chinese in America, where we were dedicated to preserving and presenting Chinese American history to pass on to future generations.
I am the mother of extremely inquisitive and active twin boys.  When I first found out that I was pregnant with twins, I was excited and looked forward to our new family additions. Then, numerous questions whirled through my mind: How was I going to manage a busy job and newborns?  Where can we find affordable and trustworthy childcare?   The proverb, "It takes a village to raise a child" (or children in my case) is very apt. With the support of family, friends, and community resources; such as, the Mother of Twins Club Queens, we made it work.
My partner and I live in Orange County, NY, where our sons are in elementary school and enjoying all that the great outdoors has to offer.
Robyn Welling
Digital Content Director
Going into preterm labor at 25 weeks with my firstborn was my earliest indication that motherhood would be full of surprises—the kinds of surprises you can't anticipate or prepare for. Many years (and four more kids) later, we've experienced countless other surprises, both joyous (like the announcement our first grandchild was on the way!) and difficult (like that time last year when my youngest told me I'm developing a chicken neck).
As the mom of five kids ranging from 7 to 27, friends sometimes turn to me for advice thinking I've seen it all—but the longer you're a parent, the more you realize there's always more to see, more to learn, and more mysteriously sticky surfaces in your house than you ever could have imagined. We all need other parents to help guide us through the ever-changing journey of parenthood. That's what I love about the mission here at ParentsTogether—finding new ways to support and empower parents to be happier, more confident, and more connected.
My first real job was as a zookeeper at the Indianapolis Zoo (which really helped me as a mother), but after graduating from Indiana University it was motherhood that enriched my career as a writer, editor, and content director. I've written for sites like Today and NickMom (Nickelodeon's website for parents), managed an online parenting humor community of 4.5 million, and been published in several NY Times bestselling anthologies. My children keep me grounded by remaining largely unimpressed.
Digital Advocacy, Growth and Innovation Campaigner
PaKou Her has 20 years of anti-racism organizing experience, along with digital campaign experience as a Field Organizer with 
MoveOn.org
 and as Senior Campaign Director of Reproductive Rights and Culture at UltraViolet. She also spent three years at 
18MillionRising.org
 (18MR) in the roles of Campaign Director and Executive Director. There she leveraged civic technology and new media to build power and community among Asian Americans and Pacific Islanders, growing the 18MR member list from 5,000 to nearly 50,000 and elevating the cultural, political, and media power of AAPIs nationwide. Additionally, PaKou is Principal of Tseng Development Group, a consulting firm that provides lectures, workshops, organizational development, transformative leadership coaching, and grassroots strategy development designed to build racial equity and create systems change. Born and raised in the Midwest, she takes great pride representing AAPIs living in the nation's midsection, and believes there are invaluable stories to be told by People of Color living in the most rural areas of the United States. Some of her favorite non-campaigning activities include entertaining two young daughters, squeezing in occasional adult-only evenings with her spouse, chasing culinary adventures, and dreaming about reviving a long-lost singing career. Swap musings about race, culture, and organizing on Twitter 
@pakouher
.