Whether you're throwing a birthday party soon—or more likely, heading to one next weekend—here's the scoop on the latest bday trend, "fiver parties."
The idea is, you buy your kiddo one big-ticket item, or pay for an experience they'll be excited about (for toddlers this might be tickets to the zoo or a music class you can take together, while older kids might really want something like a trip to a waterpark or baseball tickets to see their fave team).
Alternatively, some parents decide to use their little one's special day to inspire donations to a cause that's meaningful to their family (letting your child decide what cause to support teaches them about generosity, and if it's local, presenting the donation themselves makes them feel SO GOOD). 💝
Then instead of gifts, you ask guests to bring $5 (the "fiver")—as a contribution toward making that one big gift a reality.
Granted, it isn't right for everyone—some folks prefer sticking to traditions, and certain family members might really *want* to buy a gift. Plus some parents worry that asking for cash will seem rude or tacky.
But there are lots of things people love about the idea, too…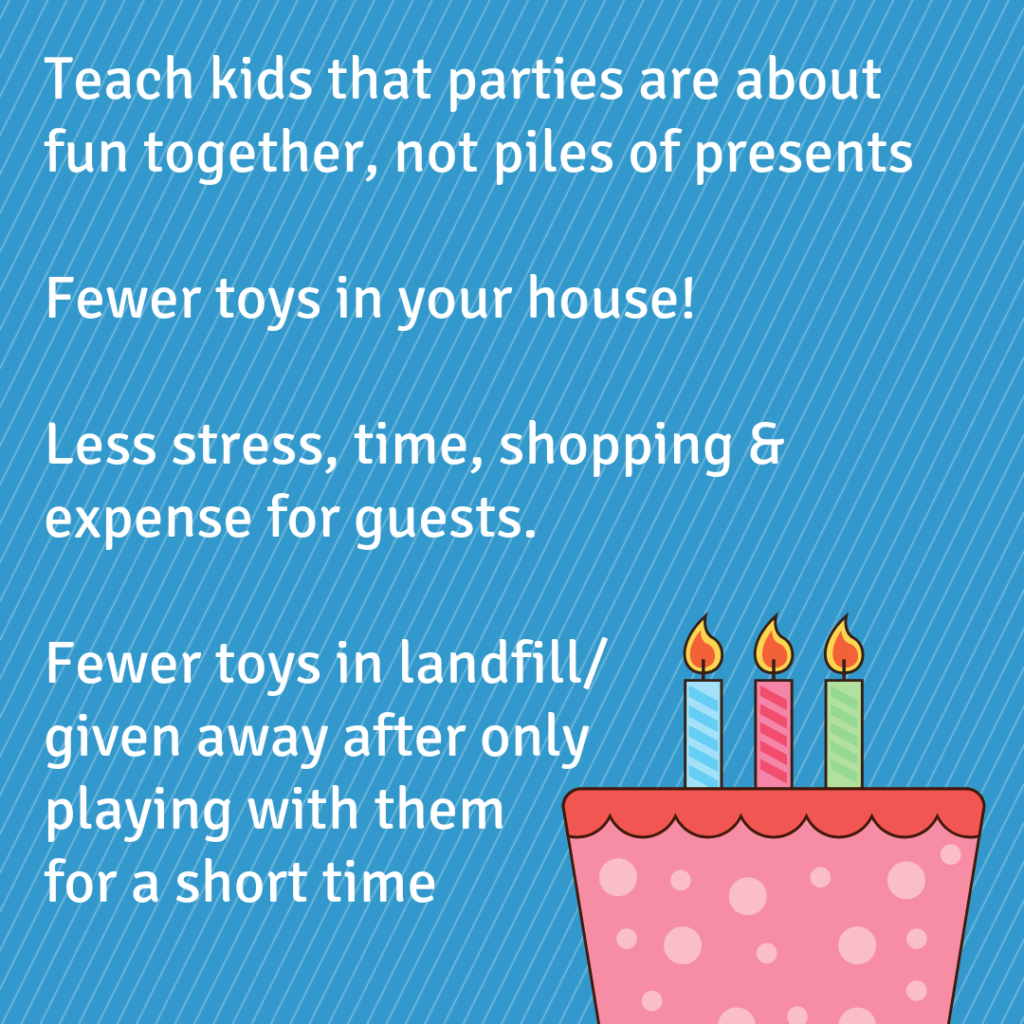 If you want to give it a try, there are two things you can do to make a fiver party successful.
1. Start with the invitation. ✏️ Explain what a fiver party is, and word it so people don't feel obligated.
You could say, "No gifts required, but if you feel called to give, please consider giving $5 toward the [big gift or experience or donation] that Ellie's super excited about this year. Thanks!"
2. Get your kid in on it. 🤗 A 1-year-old probably doesn't even expect gifts, but if your kiddo's old enough to assume they'll have presents to open, let them know ahead of time what to expect. That way they'll know to get excited about one BIG surprise, rather than a bunch of smaller surprises.
If you're worried your kid will be disappointed, you might wrap up parts of the gift for him to open — towels and sunglasses for a beach trip, a helmet and knee pads to go with their new bike, or kitty toys and dog treats to take to the animal shelter with their donation.
So what do you think? Would you ever throw a fiver party? Join our conversation on Facebook — there are tons of parents there talking about the pros and cons right now!