Chances are, you're well aware of the enormous negative impact climate change and environmental pollution are having on our planet—and by extension, all the people living here. You might have even talked to your kids about it, or explained subjects that promote an environmentally responsible mindset like where trash goes and how recycling works. But do you know why our kids are most at risk?
Children today live in an environment that is vastly different from that of previous generations. Explosions in technology, information, population, and material goods mark the end of the 20th century. Some of these changes have been wonders that contribute to the advancement and wellbeing of humanity. Yet our marketplace revolves around tens of thousands of chemicals (many of them with toxic profiles), and we release ever more greenhouse gases and air and water pollutants from our unchecked extraction-based economy. This results in environmental hazards to our health and our children's health.
Kids are most at risk
Children are especially vulnerable to environmental hazards because, beginning at the fetal stage and continuing through adolescence, they are physiologically very different from adults. They are in a dynamic state of growth, with cells multiplying and organ systems developing at a rapid rate. At birth their nervous, respiratory, reproductive and immune systems are not yet fully developed. Young children breathe more rapidly and take in more air in proportion to their body weight than do adults. They also have higher metabolic rates and a higher proportionate intake of food and liquid than do adults. And infants and toddlers can be at increased risk to some hazards due to their unique behaviors, such as crawling and putting their hands to their mouths.
Children in lower income communities and communities of color are at greater risk of suffering harm from environmental hazards. For instance, studies show that people of color breathe more nitrogen dioxide (NO2), an air pollutant linked with asthma and heart disease, and are exposed to greater amounts of fine particulate matter (PM2.5), a known carcinogen linked to intensified asthma symptoms. One study in Northern California showed strong linkages between neighborhoods that were segregated through the racist practice of redlining and asthma-related emergency room visits. Meanwhile, across the country Black children are three times as likely to have asthma compared to White children and Black Americans are nearly three times more likely to die from asthma than white Americans.
Climate change is exacerbating environmental health risks to children. Did you know that children under 5 years of age are predicted to bear 88% of the global burden of disease due to climate change? From increased severity of adverse weather events such as floods, hurricanes, and extreme temperatures, increased infectious diseases, degraded air quality, and threats to food and water security: children are most vulnerable to these direct and indirect effects.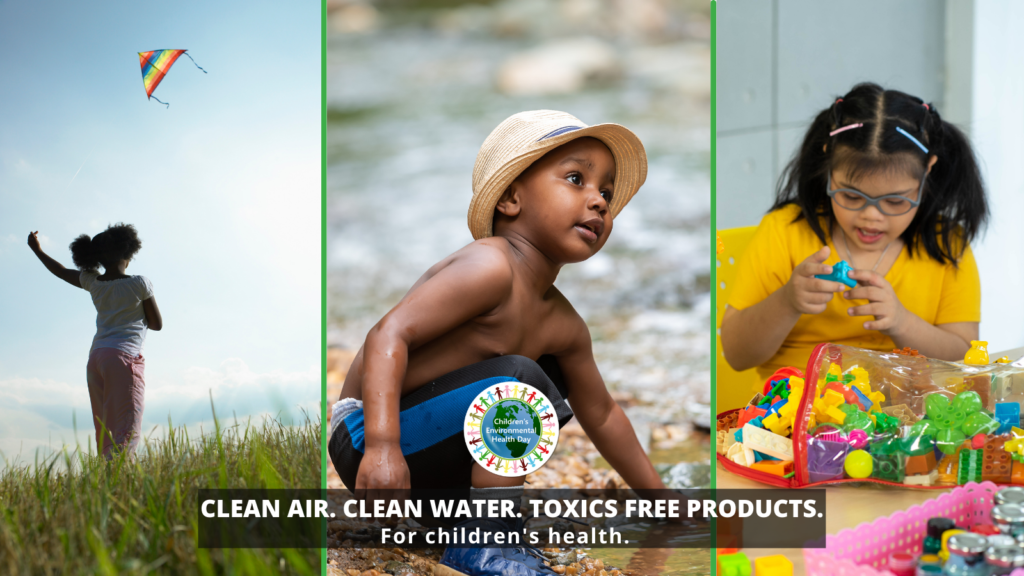 Here's what we can do
With the newly released UN's Intergovernmental Panel on Climate Change Report, issuing a 'code red for humanity,' the need to act has never been more urgent. It is our obligation to protect and nurture our children's physical, mental, and social well-being, and a large part of this is ensuring that all children have access to clean air, clean water, safe food and products, and healthy places to live, learn, and play.
This year, on October 14th, join environmental and child health advocates for Children's Environmental Health Day (CEH Day). CEH Day is an annual celebration of children's environmental health successes and a day to raise the visibility of issues and challenges in the field. It's also a day to drive collective action to address the big challenges facing our little ones.
There are plenty of ways to get involved with CEH Day, such as:
Whatever you choose to do, big or small, share it with the CEH community and inspire more people to take action as well! The time is now—let's use CEH Day to move toward a healthy and equitable future for our planet and children and future generations. Learn more about CEH Day and get inspired at: cehday.org