NEW YORK – Today, students across the U.S. and the world walked out of school to participate in a massive "Climate Strike" — a protest against the government's inaction on climate change. Many were inspired by Greta Thunberg, the sixteen-year-old Swedish activist who has called out governments for not acting strongly enough to curb the effects of a warming planet. They were joined by parents, activists, and others hoping to spur governments to take immediate action.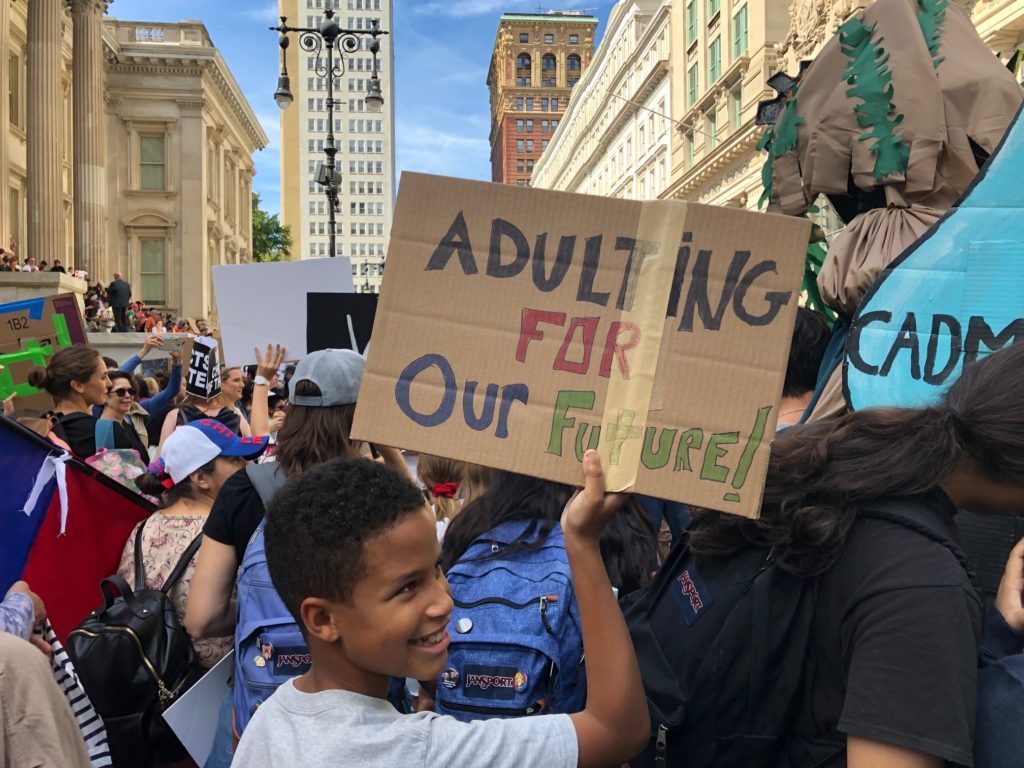 Absences Excused for Students
In New York City, protesters began gathering at Foley Square in Manhattan at noon. Earlier, the Department of Education had announced that it would excuse absences of students participating in the Climate Strike as long as they had parental consent.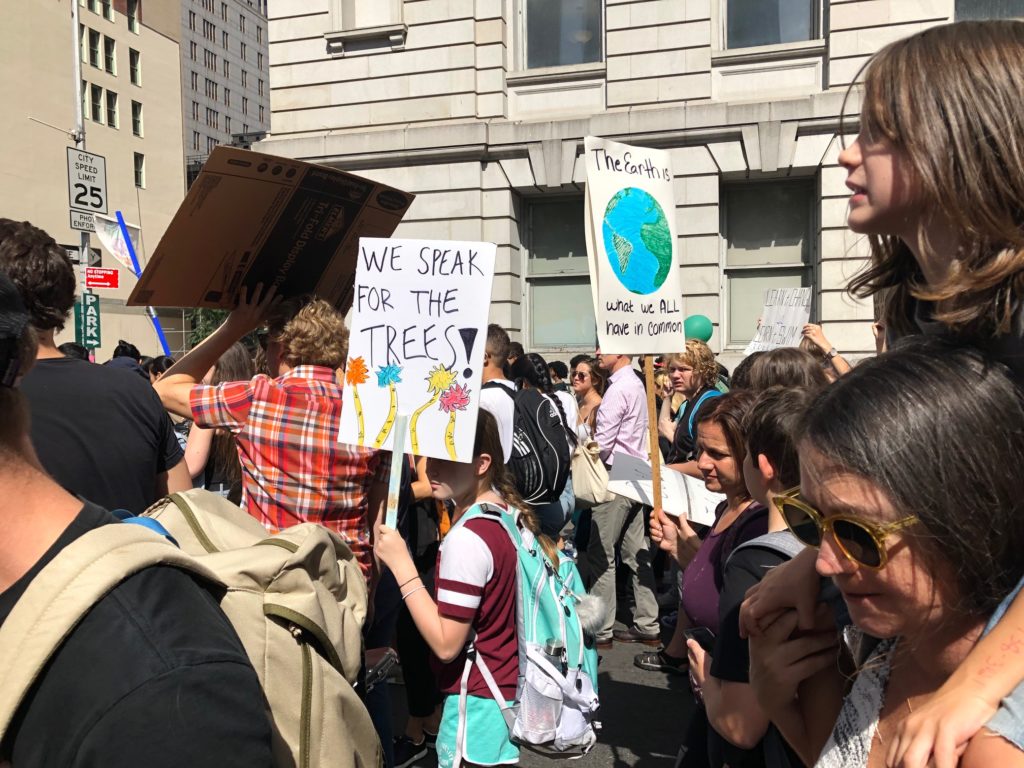 Some elementary school-aged children arrived at the rally carrying their backpacks from school. Many sported colorful signs with messages like "We only have 1 earth. Don't waste it" or "The time is now", or "Why aren't you panicking?". Several signs were inspired by the Dr. Seuss book, "The Lorax".
Younger children rode on the shoulders of their parents. One protester carried a baby with a sign that said, "I may only be 4 months old, but it's the politicians that need to GROW UP".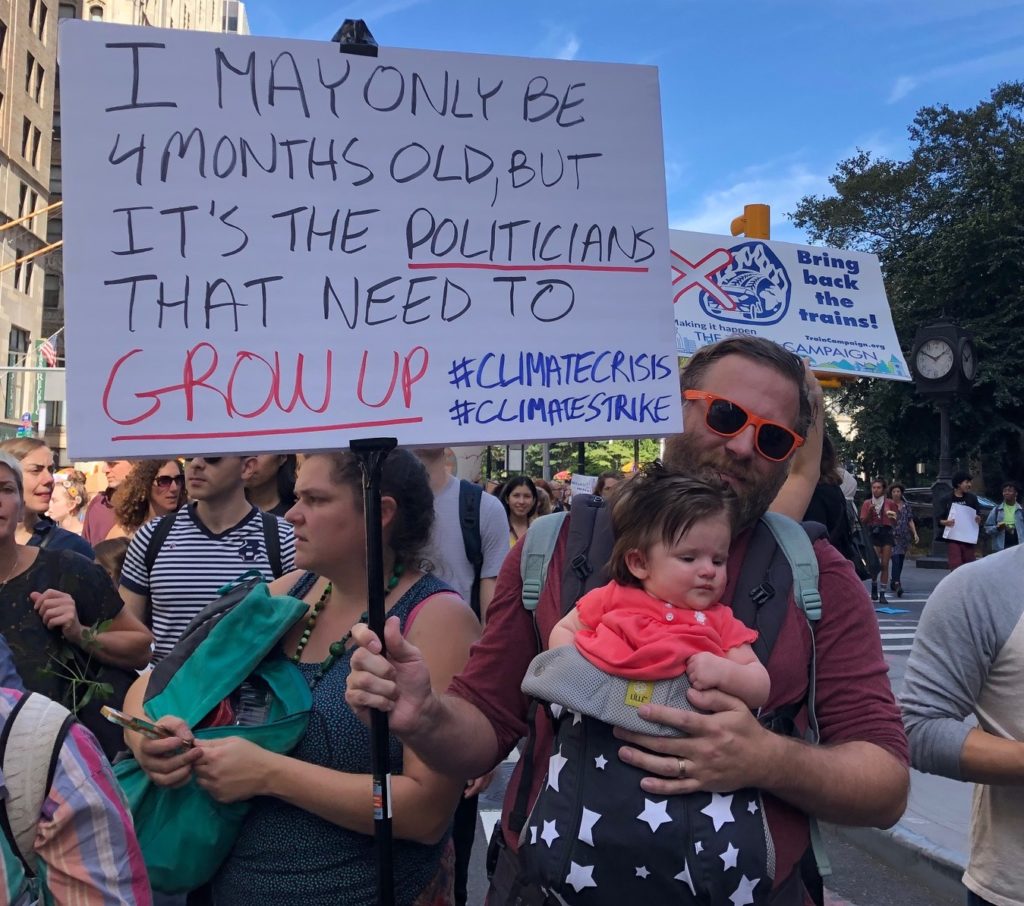 Teens Lead The Way
Groups of teenagers led the crowd in spirited chants of "What do we want? Climate Justice! When do we want it? Now!", or "Show me what democracy looks like! This is what democracy looks like!".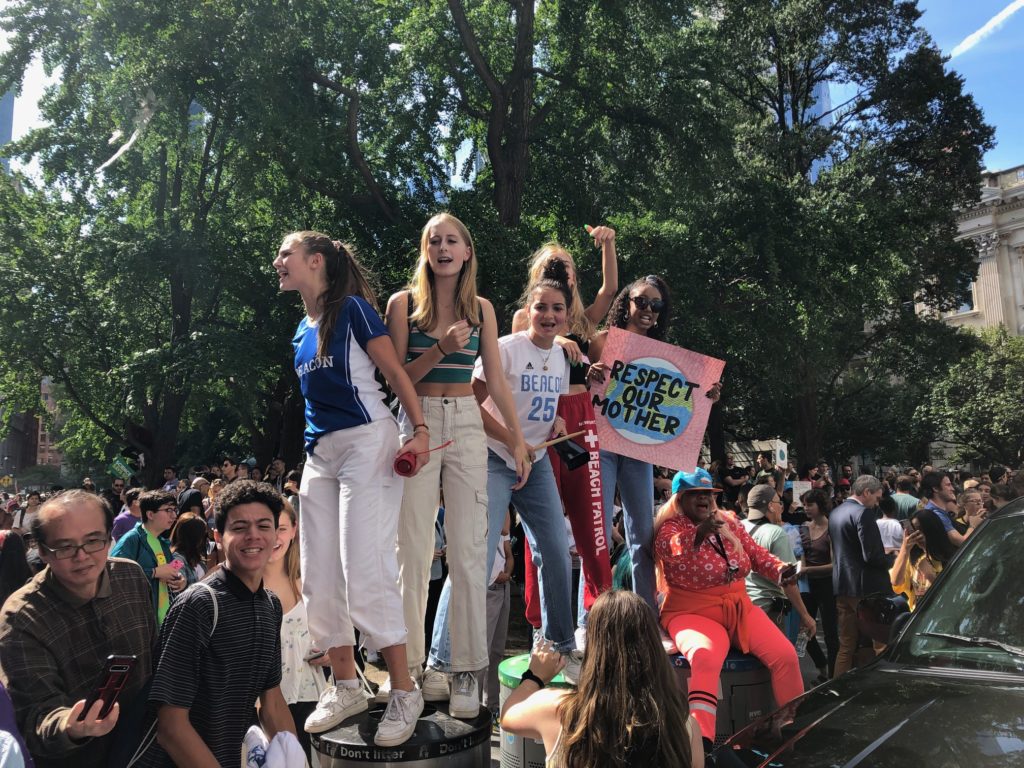 Cheers rose up as the crowd began the march down Broadway to Battery Park. At one point, some protesters had to be diverted to another Battery Park entrance due to the size of the crowd. A stage was set up in the park for speeches.
A Strong Turnout
The Mayor's office estimated the crowd at 60,000 at midday, but by 5 p.m., Greta Thunberg tweeted that "The estimated number in New York is over 250,000! They closed the park because there were too many people…"
350.org, a nonprofit organization dedicated to fighting climate change, claims that "4 MILLION people and counting have walked out of school, work, or home today." #ClimateStrike was a trending topic on Twitter, and images flooded in from marches around the world as they got under way in each time zone.
When Greta Thunberg took to the stage, she got straight to the point. "Why should we study for a future that is being taken away from us? That is being stolen for profit?" After a pause, she continued. "Some people say we should study to become climate scientists so we can solve it. But by then, it would be too late."