On the heels of last Friday's Global Climate Strike, and 16-year-old activist Greta Thunberg's moving speech to the United Nations about climate change, the #NoFutureNoChildren movement is starting to gain major traction among North American teens.
The movement originated with 18-year-old Canadian, Emma Lim. She has pledged not to have children until the government takes decisive and effective action on climate change, and urges other young people to do the same. The pledge states, "I pledge not to have children until I am sure my government will ensure a safe future for them."
"I have always, always wanted to be a mom, for as long as I can remember," Lim revealed to Insider, "but I will not bring a child into a world where they will not be safe."
Lim was inspired to take action when she read the highly-publicized 2018 UN Climate Report. She reflects on her reaction to the report on her website. "The truth is that we are in so much more danger than I could have imagined. We are facing changes that will be irreversible: the loss of ecosystems, the loss of fresh water, the loss of clean air."
Climate change has had a big impact on many kids' lives already.
Signers of the pledge offer compelling reasons for their participation, some or which are shared on the movement's website. The stories are heartfelt and compelling, often detailing the ways in which climate change has impacted their young lives.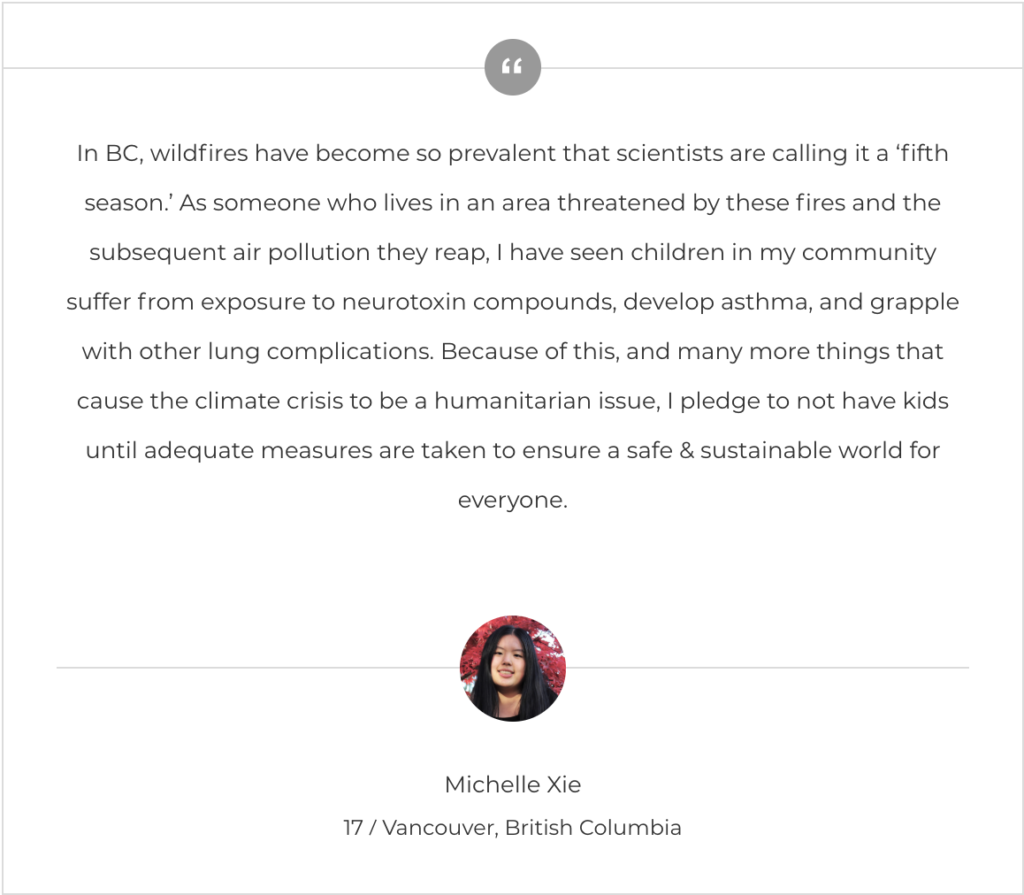 18-year-old Isabelle Axelsson, who lives in Stockholm, Sweden, also signed the pledge.
"I am taking this pledge because I don't want to give birth to a child that will feel the same climate anxiety and fear as I do," she wrote. "I don't want any more children to have to face the consequences of our inaction."
Payton-Rose Mitchell of Montréal, Québec always dreamed of having a family. "Now, at almost 21 years old, I've come to the painful realization that I can't have kids" she laments. "This doesn't feel like a decision to me. We have roughly 10 years to adopt an emergency climate plan for a just transition away from fossil fuels before we lock in the worst case scenario for the climate catastrophe."
Since launching the site, over 3,000 young people have taken the pledge to remain child-free until climate security is ensured.