When whipping up meals for your quarantined family, you might have less access to fresh ingredients—or you might just be plain tired of eating (and cleaning up after) the same meals day-in and day-out. In this stressful time when many parents are facing financial uncertainty, easy, low-cost meals are even more appealing. Here are some easy, kid-approved recipes from foodie parents that you and your home-bound family will love. Plus, you can make many of these with ingredients you probably already have at home.
Best comfort food: Grandma's Mac and Cheese
Mac & Cheese is a good dish to make to feed a lot of people and is great comfort food! This particular recipe uses two types of cheese, and then at-home basics to make this creamy concoction. It also makes for some great leftovers the next day—eat it as a side with dinner, or roll it up in a tortilla (yes, cheesy pasta in a tortilla!) to combine three kids' favorites in one easy lunch. Click here for the full recipe, from Robbie Randolph of Greenville, S.C.
Most Flexible Dinner Recipe: One Pot Chicken and Rice
Rice is a staple item you most likely have on hand, and while the recipe as written is delicious, one of the best things about it is how flexible it is—you can substitute whatever vegetables you happen to have, and use them fresh, frozen, or canned. You can even use seasoned water in place of broth if you don't have any! It's a well-balanced meal, all in one pot for easy clean-up. See the Feel Good Foodie's recipe here.
Easy Peasy: The Best Tuna Casserole Recipe, Ever
"My family would probably eat [this] every night if I agreed," says Nancy Johnson Horn of New York City, mom and founder of TheMamaMaven.com. Tuna Casserole is a definite crowd-pleaser comfort food that can be reheated the next day, and during these times, we need all the comfort and convenience we can get, right? If you don't already have them in the cabinet, canned tuna, peas, and cream of mushroom soup should be easy to find. Add egg noodles and a cup of milk and you've got it. View Nancy's full recipe here.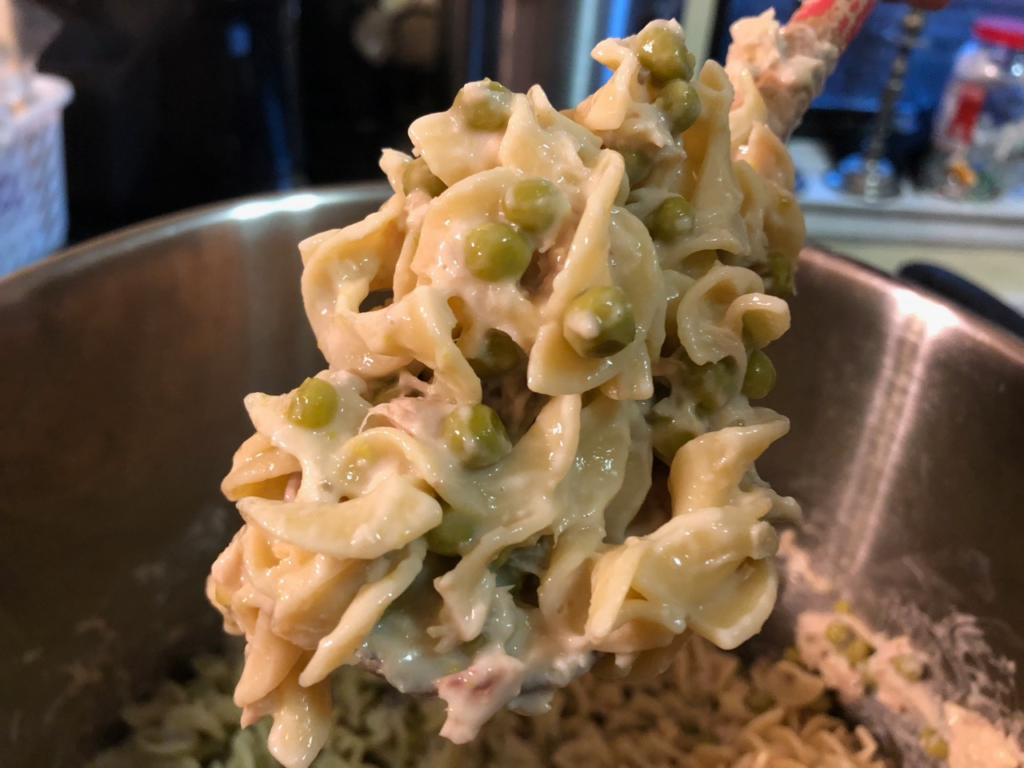 Easy to make AND clean up: Blender Banana Bread
Banana bread is a family favorite that can work as both a meal and a snack—plus this version doesn't require much clean up. This super easy and unique banana bread can be whipped up in your blender. It's cheap to make, and if you've got bananas you probably have everything else in your kitchen to make it right now. You can find the recipe from Amy Hanton of the Cooking Mom here.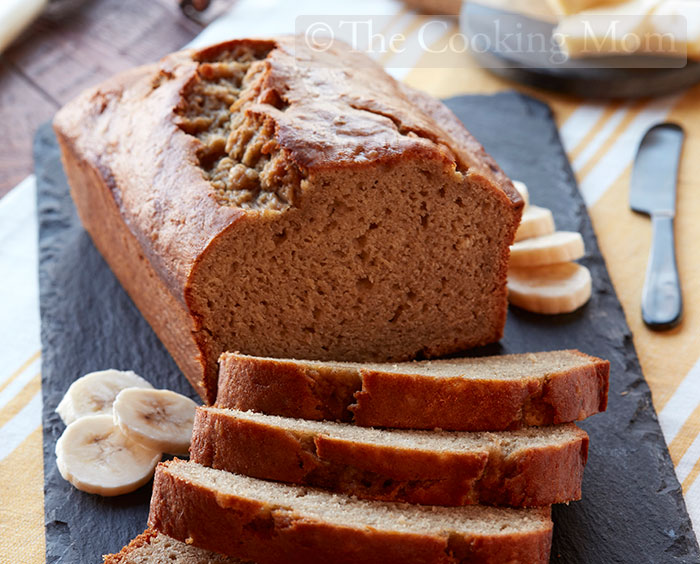 Four ingredients and under $10: Instant Pot Creamy Pasta and Meatballs
For many families, you just can't go wrong with pasta and meatballs—it can be the epitome of comfort food during a not-so-comforting time. And, if you swear by your Instant Pot's time-saving super-power, this recipe's right up your alley. Since it's only four ingredients (a jar of sauce, pasta, cream cheese, and frozen meatballs) it's also incredibly budget-friendly. Check out the full recipe from Sandee Booth here.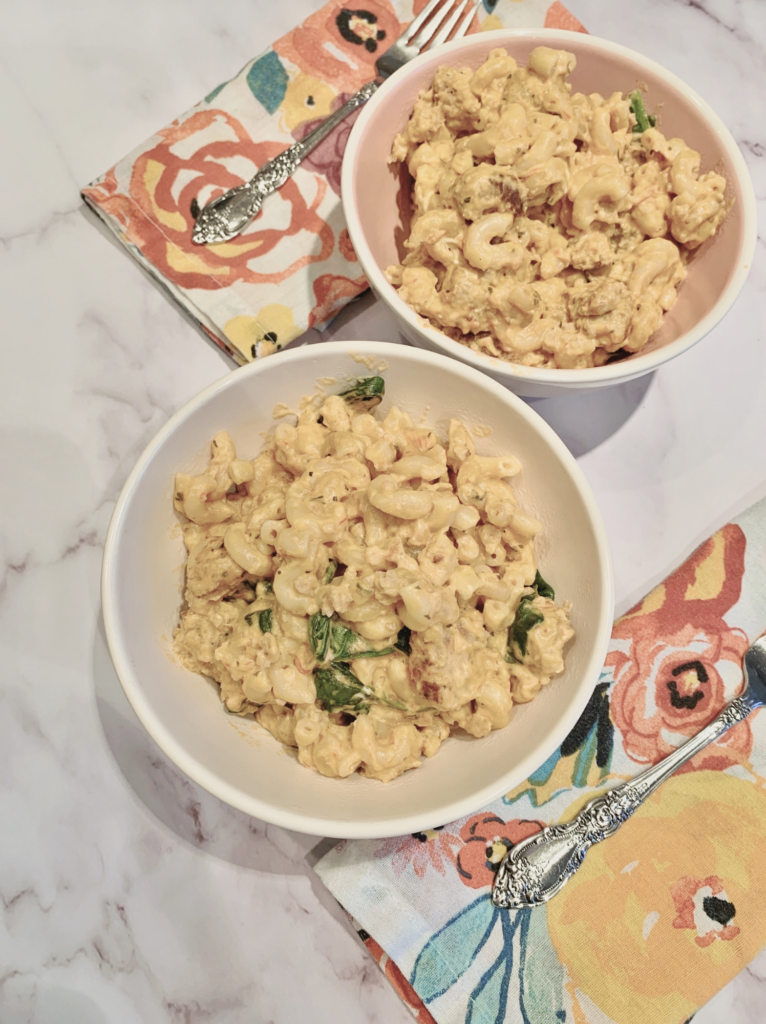 Best-Named Breakfast Treat: Oatmeal Hermit Bars
In this age of required "hermiting," it's nice to have a sweet, filling breakfast treat on hand that can double as a guilt-free snack for the kids—plus oatmeal is always a great shelf-stable ingredient to have in your pantry. In just a few minutes and using a few baking staples, your kitchen will smell like a cinnamon-y heaven! The recipe calls for raisins or dried cranberries and nuts, but you could easily omit those, and even substitute frozen blueberries or otherwise customize the bars to your family's taste.
Mess-free meal: Cast Iron Garlic Lemon Chicken
Here's another simple and satisfying dinner that's easy to make and only requires one pan—so it's a quick clean-up, too. You can snag chicken thighs next time you're at the store and keep them in the freezer until you need them. Thanks to Patty Barba for the original recipe:
Ingredients: Chicken thighs (Approx. 2 per adult or 1 per child), 2 lemons, 1 tablespoon of minced garlic, 1 handful of fresh cilantro or 1 rosemary sprig, Salt and pepper to season, dried parsley to season, 1 tablespoon of olive oil. 
First, pre-heat oven to 400 degrees. Heat cast-iron skillet on stove top, until it's really hot and smoky. Toss the thighs, salt, pepper, parsley and garlic in a freezer bag to coat. Sear seasoned chicken thighs on hot skillet, and once one side is brown and seared (approximately 10 minutes) flip the thighs, top with sliced lemon wheels, fresh cilantro or rosemary sprig. Cover with foil paper and place in oven for 45-50 minutes until cooked. Serve with mashed potatoes, or a salad if you have fresh veggies.