LGBTQ+ Pride is an important time for celebrating love and self-expression, remembering historical progress, and committing to more inclusive communities. And it can most certainly be a family-friendly occasion!
While Pride is primarily created by and for the LGBTQ+ community, everyone can still celebrate and learn during Pride month even if no one in your family identifies as LGBTQ+ (or you're just not sure yet!).
Here are some ideas for getting creative as you embrace diversity, learn about essential LGBTQ+ history, and reflect on how to make your community a place to be proud of. Kids of all ages can participate!
Chalk the rainbow
Everyone knows that a rainbow-striped flag represents LGBTQ+ Pride, but not many people know why. Encourage kids to chalk or color the design of the Pride flag, while learning what each of the colors represents. Note that the Progress Pride flag is the latest version of the ever-evolving Pride flag. Kids can also learn about many other versions and types of Pride flags that have held significance throughout the years.
Watch LGBTQ+ characters
Chances are, you and your kids are so used to seeing cisgender and heterosexual representation in the media that you don't even think about it most of the time. So for your next movie night or family TV session, choose a series or film that includes LGBTQ+ characters in significant roles. See Common Sense Media's age-sorted recommendations for TV shows and movies with LGBTQ+ characters.
Have a photo scavenger hunt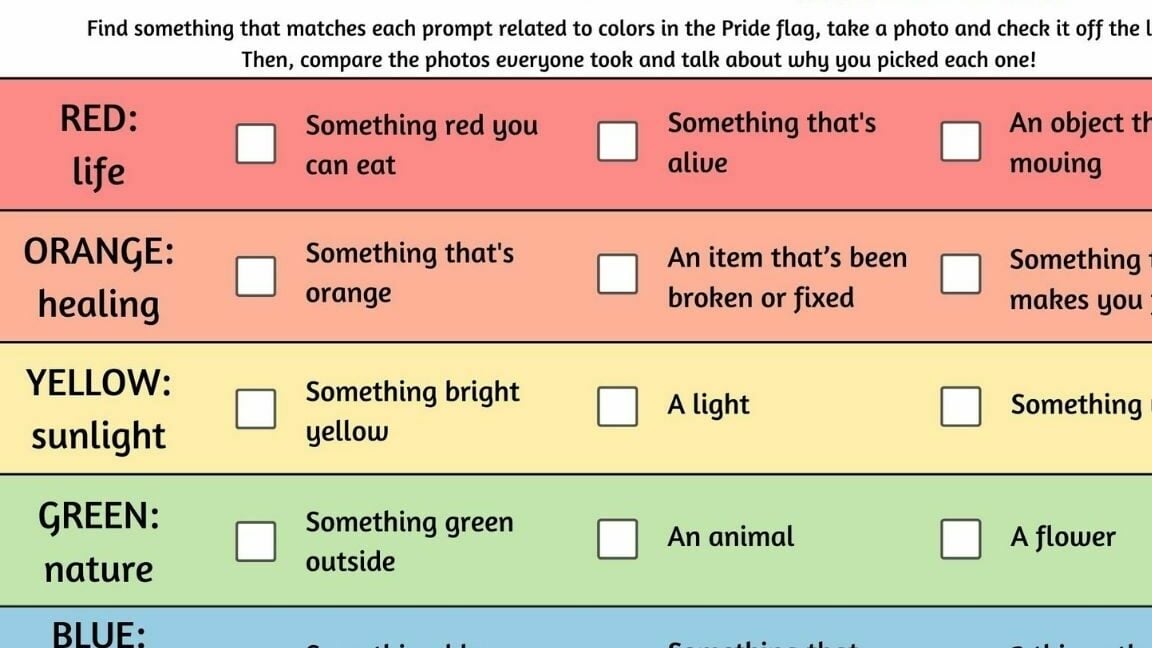 Celebrate Pride with a checklist of photo prompts all about rainbows! Your family can learn what the colors of the LBBTQ+ Pride flag represent while finding fun and meaningful items to take photos of along the way. A photo scavenger hunt can be done individually or as a contest or race—but the most fun part is comparing your photos at the end and talking about what you chose to represent each prompt. You'll be surprised by what you learn about Pride, and each other! Get our free printable scavenger hunt list (and more!) here.
Attend a Pride event
Your community might have a Pride parade, festival, concert, or family event that is open to the public. If so, consider bringing the whole family—just remember that if you're there as allies, focus on supporting the event and respectfully cheering on participants, instead of taking over the space.
If you can't find a local event, or if you're not ready to attend in-person, look for virtual events or video coverage of past events. And if you or your kids are overwhelmed by the thought of a parade or party, be on the lookout for Pride-themed book readings or storytimes, movie nights, craft activities, and other low-key options.
Rainbow necklace
Make your own Pride jewelry to wear to an event, to school or the park, or just around the house. Depending on your kids' ages and motor skills, you could opt for beads, lanyard, straws, pasta, or cereal to make necklaces. It's another opportunity to remind kids what the Pride colors mean!
Pride book haul
No matter what age your kids are, you can find books with LGBTQ+ representation. Seek out some of these books at your local library or bookstore, and start a discussion about what has changed or not changed for LGBTQ+ folks in society—or just enjoy the diversity while you read together! Common Sense Media's list of books with LGBTQ+ characters is sorted by age.
LGBTQ+ vocabulary practice
Even if you're part of the LGBTQ+ community or consider yourself an active ally, you may have some vocabulary to brush up on. Plus, it's time to actively teach kids that there's nothing shameful about words like "lesbian," "gay," "trans," or "queer."
Pick some words and definitions that you're maybe not 100 percent confident about from this short list (with explanations for elementary school kids) or this longer list (for teens/adults), and learn something new together. Also encourage kids to brainstorm and ask about other words, names, or acronyms that they may have heard related to Pride or LGBTQ+ identities—and help them find and understand the definitions.
Depending on your kids' ages and reading/writing abilities, you could keep practicing your new vocab with an activity like a make-your-own word search puzzle, or even a Pride-themed spelling bee.
Prideful self-portrait
At its core, Pride is about being proud of who you are, even though it can be hard to stand out. Have each family member think of something that makes them unique or different from others in their family, school, workplace, or town. Then have them highlight that unique quality in a portrait of themselves. Get creative with the art medium, from crayons and markers, to collage, to graphic design, to playdough sculptures! Then put the portraits on display in your house (or on social media, if you have everyone's permission) with pride!
Virtual fundraiser
Choose a nonprofit organization that supports LGBTQ+ youth or families in your local community or nationally, and start a fundraising goal on your favorite social media platform—or simply send out a text/email with a link to donate. Have creative kids help you use your family's self-portraits, chalk art, or other colorful art (spin art or tie dye, anyone?) to create an eye-catching image for your fundraiser.
Eat the rainbow
Everyone has to eat anyway, so why not create a special snack, meal, or dessert that highlights the colors of Pride? The rainbow-hued food can create opportunities for kids to learn more about colors and even inspire conversations about diversity. Some ideas include rainbow salad, rainbow popsicles, rainbow smoothies, or rainbow swirl cookies.
LGBTQ+ & Pride inclusion audit
Since we live in a world where cisgender and heterosexual identities are considered the "norm," you can probably spot some simple, everyday details that could be updated to be more inclusive of LGBTQ+ families and individuals. For example:
Child enrollment forms that list "Mother" and "Father" as the only options for parents' names
Prom/school dance/Valentine's Day literature or advertising that assumes every couple will be a male/female pair
Parent communications that are directed only at "Moms" or "Moms and Dads" without acknowledging different family structures or roles
Kids' activities, stores, or products that are split up by gender, with no valid reason for the divide
Show kids a real-life example or two, and see if they can come up with more examples. Then, see if they're interested in writing an email or letter to someone in charge to request an easy change that would make the community a little bit more welcoming to all families.