The Sarasota County, Florida police recently arrested 25 men in a special four-day operation. What did all of the cases have in common? All of the men are considered online predators, charged with using the internet to solicit sex from minors and traveling to meet up with said minors.
It's every parent's worst nightmare—and naturally, parents want to know how they can prevent their kids from being the potential victims of similar crimes. So the Sarasota Sheriff's Office updated its list of common apps used by online predators. The apps range from run-of-the-mill social media apps you've probably heard of (Snapchat, WhatsApp) to other dating, messaging, video, and interactive apps that you may not know about yet (LiveMe, Holla, Kik, Whisper, Skout, and more).
Several factors contribute to the danger associated with these apps.
Many apps on the list share users' location information, which can make children and teens vulnerable to online predators. Some of the apps encourage users to meet up in person or share personal details. Others are hot spots for cyberbullying or explicit content.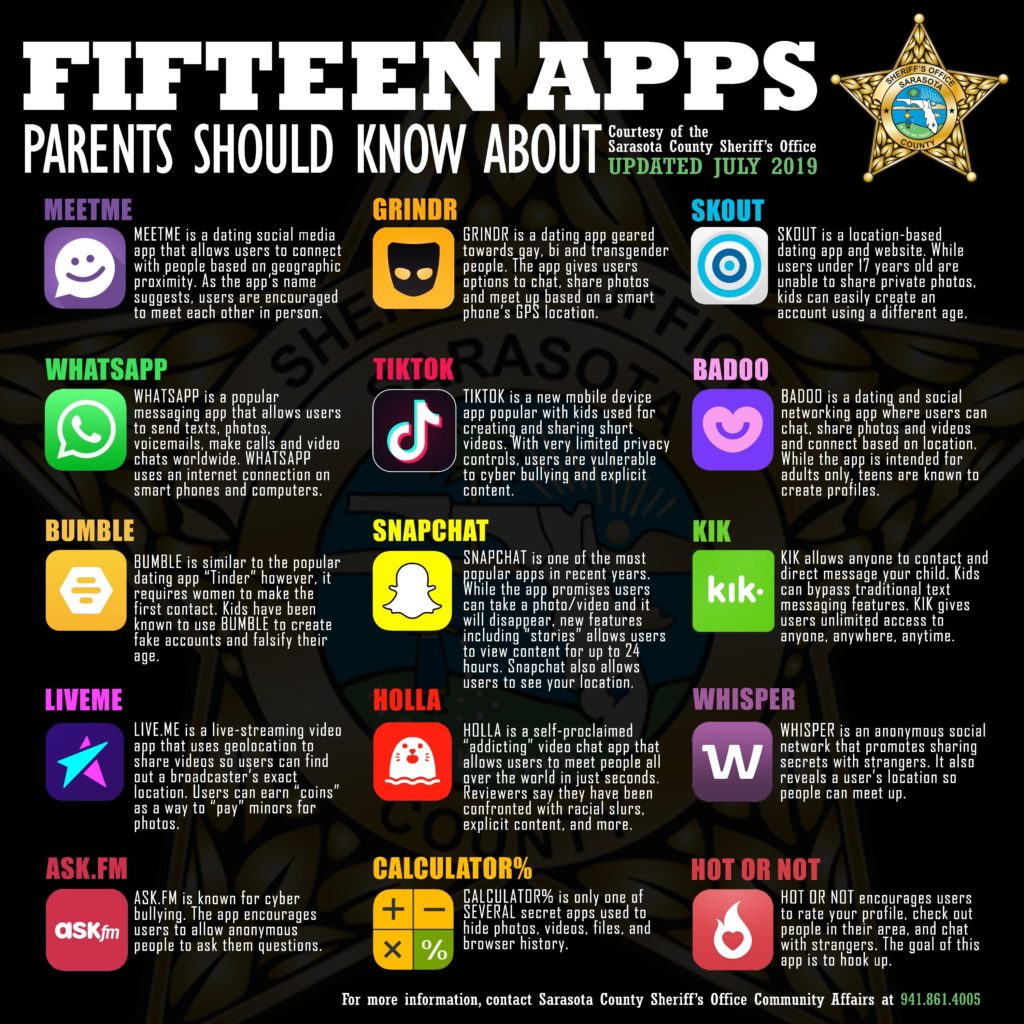 All of the apps are important for parents to be aware of—but not necessarily so they can ban every single one from their kids' phones. Parents need to be aware of these privacy concerns and have those crucial safety conversations with kids.
The risks might be relatively small, but it's critical for parents to educate themselves.
For parents whose kids spend any free time online, there's always a slew of concerns, whether it's too much screen time, influential ads, sexting, bullying, or inappropriate content. Being targeted by strangers online might be relatively rare compared to all of the other issues we hear about, but it's still something that everyone who uses the internet or a smartphone needs to be aware of.
Besides becoming familiar with various apps and their privacy and location-sharing settings, experts suggest having frequent conversations with kids about safety concerns. For example, make sure kids understand the difference between people they've only chatted with online versus people they know in real life. And as Julianna Miner, author of Raising a Screen-Smart Kid, recently told Good Housekeeping, "We need to teach kids to trust their guts when something feels 'off,' and to withstand pressure from people who are trying to persuade them to do something they know is wrong."
Experts agree that parents should try to keep an open family dialogue going. That helps children feel comfortable telling an adult when they've made a mistake or when anything inappropriate is going on. (Most kids do not tell parents when they're being cyberbullied, for example.) If they've accidentally shared information or clicked on something, it's much safer if you can help them deal with it right away—instead of them keeping it from you out of fear of getting in trouble.
While there is a lot to worry about as a parent in this increasingly digital age, there's also some hope. Mashable just came out with a list of the safest places on the internet for kids. These apps and websites actually make children's safety and wellbeing a priority.