We love a happy, positive holiday—and everyone loves happy, positive families! June 1st is Say Something Nice Day, which just happens to coincide with another one of our favorites—LGBTQ Pride Month. Make it special with a daily commitment to say something nice to someone, whether it's a family member or friend you love, or even a complete stranger.
These daily prompts provide tons of ideas, so you can keep kindness flowing in the world.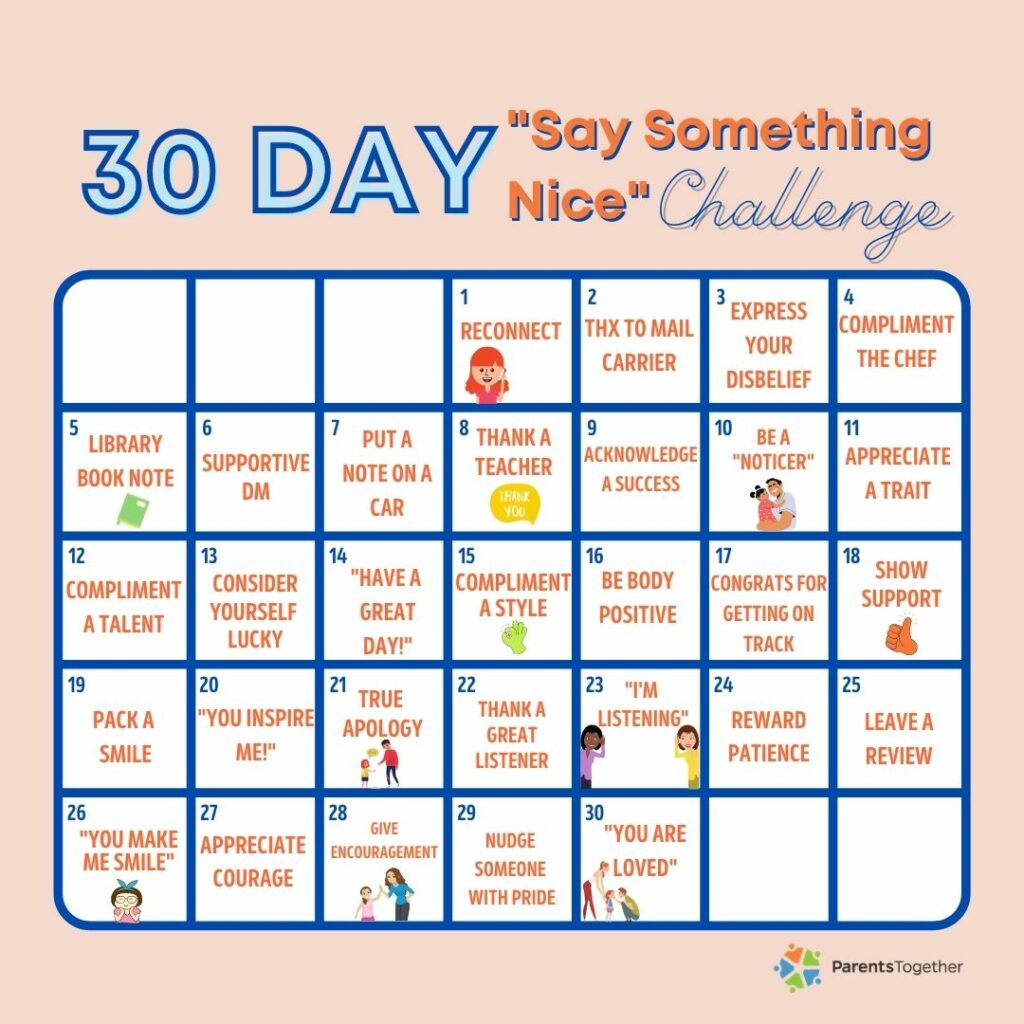 Reconnect with friends, old and new.
Reach out to someone you haven't seen or talked to in a while. There's nothing like hearing, "I miss you," and something as simple as, "Your friendship is a gift," reminds loved ones they are never taken for granted.
Leave snacks and a note for your mail carrier or delivery person.
The people who do these jobs work so hard, and many of us wouldn't have the necessities we need without them. Try leaving a bottle of water or snacks on your doorstep with a note expressing your appreciation and inviting them to help themselves. Young kids can draw or paint a joyful picture to display nearby!
Express your disbelief.
People wow us everyday with their stories and actions. The next time someone says or does something that blows you away, compliment them. People love hearing specific compliments like, "You tell the best stories" or "You always wow me with your kindness" or "I'm super impressed with how polite you are!"
Compliment the chef.
Whether a parent cooked dinner or you're out at a restaurant, take the opportunity to tell the cook how delicious the meal was.
Leave a kind message in a library book.
Imagine the warm and fuzzy feelings you'd get if you opened a library book and found a kind note from a stranger inside. Something as simple as, "We both love the same books. I hope you enjoy it as much as I did!" can do the trick.
Support an LGBTQ+ celebrity with a DM.
In honor of Pride Month, select a celebrity you admire (Demi Lovato just came out as nonbinary, for example), and leave a supportive message for them in their DMs. It takes guts to use your platform to promote acceptance and authenticity in this world, and hearing a word or two of kindness about it can do wonders to keep the love flowing.
Place a note on someone's car.
The next time a stranger gives you ample room to pull into a parking space, try leaving a note of thanks on their car. You could also leave a friendly note just telling them your kiddo loves the color of their paint job, or that you got a laugh from their bumper stickers!
Thank a teacher or tutor.
This year more than ever, there are educators who've gone above and beyond to carry our children through. If you know someone like that, let them know you couldn't have made it through the school year without them.
Acknowledge an accomplishment.
This is great if you have children who tend to fight a lot. Ask each child to acknowledge a sibling's success—whether that's getting great grades or winning the soccer championship—and they may just see each other a little differently.
Take note of something.
You've probably met a noticer: they're the kind of people who pick up on the smallest details with hawk-like precision. You can turn this into an avenue to kindness by surprising someone with how much you've paid attention to the little things they do. Examples: "I've noticed how you always restock the coffee for the coffeemaker, I just want you to know it's appreciated," or "I saw how you helped Mom carry her bag, and that was a really nice thing to do." Or tell someone who recently achieved an accomplishment (maybe they graduated kindergarten, won a baseball game, or learned to tie their shoes) how unstoppable they are, and you'll surely make their day.
Appreciate a personality trait.
Whether you're looking for something nice to say for a friend, coworker, or stranger, showing appreciation for something that makes them likable is a great way to lift their spirits. Examples: "Thank you; you've been really efficient, I appreciate that," or you might tell your child, "You're always ready to lend a hand, and that's a great quality to have."

Compliment a talent.
Whether your sister is an expert at braiding hair, you appreciate your neighbor's gift for telling jokes, or your daughter has been really improving her jump shot—tell them!

Consider yourself lucky.
There are people in your life who make the everyday chaos of raising a family run more smoothly. Maybe it's a babysitter, a grandparent who helps out a few days a week, or the crosswalk worker who ensures kids walking to school cross the street safely. Let them know how lucky you are to have them.

Wish someone a great day.
A huge smile and a simple good morning is great, but why not take it farther and tell a stranger you pass on the street or in the coffee bar line that you hope they have a great day?

Compliment a style.
Taking note of someone's appearance can be tricky, but if you stick to attributes related to style, it's a little less so. Is there a mom in your carpool who always wears the best accessories? Is there a child in your neighborhood with a penchant for colorful shoes? The more specific the compliment, the better the other person will feel because they'll know it was meant just for them.

Be body positive.
We're often our own worst critics, so don't forget to say something nice to yourself! Kids absorb the things we say, even if we're talking to ourselves, so make sure you're treating yourself with the same love and respect you want your kids to show themselves. Say how comfortable you feel in your swimsuit, or how the color of your shirt makes your eyes look extra bright. You can also try some of these body positivity phrases parents have told us they use at home.

Pat someone on the back for getting back on track.
This is the perfect opportunity to recognize a friend or family member who recently overcame an obstacle or experienced a comeback of some sort. Maybe it's a child who picked up their grades after struggling in school or a friend who was having a hard time at work and is now being promoted.

Show your support.
Demonstrate your family values out loud! Show your support of LGBTQ+ and other marginalized communities by talking directly to your kids about it, or by saying nice things about that community when you know your kids will overhear you. Acceptance is learned at home, and growing up surrounded by positive messaging about diverse communities is key.

Pack a smile.
Wherever your family members are travelling today, whether it's school or work or just out to play, tuck a sweet note into their lunchbox, pocket, or backpack where they'll find it later. Surprise smiles are the best kind!

Tell someone how much they inspire you.
All of us, even young children, have people in their life who inspire them, whether it's to try something new or to think about something in a different way. Hearing those words is not likely something they hear every day.

Apologize to someone who deserves it.
Saying "I'm sorry," even for things done long ago, can make a world of difference. To make it meaningful, be sure it's a "true apology," which includes these three elements: take responsibility for your mistake by saying what you did wrong, pledge to do better, and ask for forgiveness.

Tell a great listener how much their "ear" means to you.
If you have a friend or family member who's always ready to listen and help you figure things out, let them know. Help your child think about a supportive friend or someone who always listens to their stories, and have them write them a note or otherwise express their feelings.

"I'm listening."
On the flip side of that, pledge to be that "ear" to someone else. To someone going through a hard time, someone who always questions their self-worth, or someone who's a bit isolated, taking a moment to remind them they are worthy of great things and that you care about what they have to say can be just the boost they needed.

Reward patience with kindness.
Being patient is a special character trait that not everyone has. If there's someone in your life who never complains when you or your little ones run late, or perhaps a babysitter or a grandma who remains calm even when toddler grandchildren throw tantrums, or even someone who waited calmly behind you at the grocery while you fumbled with the self check-out, acknowledging their patience will go a long way.

Leave a positive review.
Decide together as a family what local restaurants and businesses you really love—which also happens to be a great opportunity to relive some fun memories, too! Go online to Facebook, their website, or Yelp! and let those business owners (and the community) know what your family really enjoys and appreciates about them.
"You make me smile."
Smiling is the universal expression for happiness, and letting your kid know that your smile is because of them can be a really nice boost! It seems simple, but it will definitely make them smile in return.
Express your appreciation for another person's courage.
Whether you know someone going through something tough like a medical treatment or you simply want to acknowledge a friend who never backs down from a challenge, let them know how brave you think they are and it may just be the boost they need to keep fighting.
Give someone encouragement.
Successes are easy to compliment, but knowing what to say when things go wrong is an art. Hearing simple statements like, "You will nail this next time," or "This is temporary, your next win is around the corner" can help soften the blow and motivate someone to keep trying.
Nudge someone with your pride.
It's one thing to tell someone you're proud of them, it's another to say, "You should be so proud of yourself!" The latter encourages self-love and the acknowledgement of their own self-worth, which boosts confidence and self-esteem.
Tell someone,"You are loved."
It may sound cliche because so many of us say "I love you" to our families and friends every day, but hearing it said this way reminds them it's not just you who cares about them.
All that "saying something nice" feels great, doesn't it? Keep the kindness going—check out these 50 acts of kindness you can do with your kids!
If you enjoyed this, check out our other 30-Day Challenges for families!
And don't forget to get your free printables for each of these fun and connection-building challenges!