'You literally just did history': Colorado's teacher of the year wants students to understand the power of bearing witness was originally published by Chalkbeat, a nonprofit news organization covering public education. Sign up for their newsletters here: ckbe.at/newsletters
The syllabus for Gerardo Muñoz's AP World History class doesn't call for discussing coups until Unit 9, but after watching a mob of extremists storm the U.S. Capitol Wednesday in an effort to stop the certification of the presidential election, Muñoz decided to skip ahead.
His students had just witnessed history, and he wanted them to understand their place in it.
Muñoz started his classes Thursday by asking students to respond to Wednesday's events. Most of his Advanced Placement World History students, represented by circular avatars on a Google Meet video call, typed responses in silence. Muñoz read parts aloud.
"'I'm tired of living through historical events as a teenager,'" he read. "'This is exhausting.
"It does get to a point where so many things happen that it's like, I just don't want to live in history at the moment," he said, acknowledging students' feelings before continuing to summarize their responses.
"Again, questions of why police didn't react similarly to the way they've reacted in other movements. Making it seem like it's OK for these grown adults to act like children. You know what? You can rant here. It's OK. Describing the events as crazy. Connections to the election. There's just so much important stuff in here."
"What you just did is, you literally just did history," Muñoz told his students.
Muñoz is Colorado's Teacher of the Year. He teaches history at Denver Center for International Studies, which serves students in grades six through 12. He's also a Denver Public Schools graduate, and he remembers what it felt like to have his own high school teachers decline to discuss events such as when Colorado passed an anti-LGBT ballot initiative in 1992.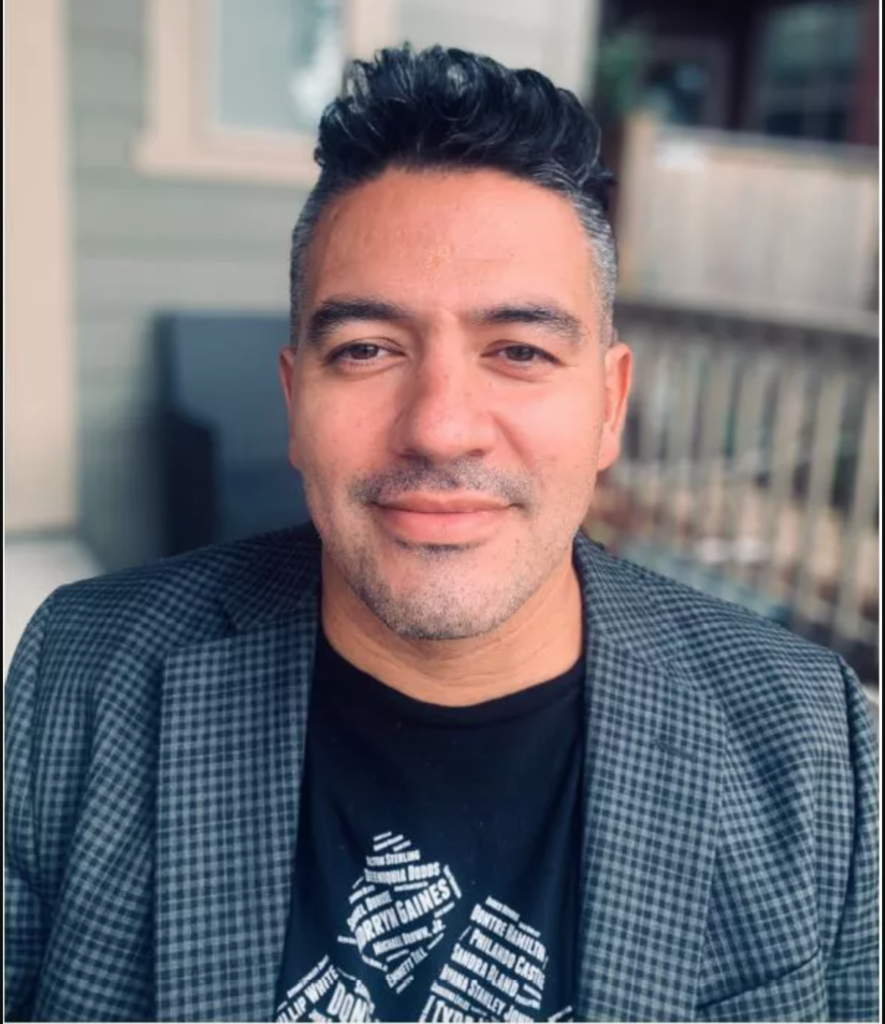 "I don't identify as LGBTQIA, but seeing classmates crying in the hallways resonated so deeply with me. Not a single teacher said a word," Muñoz said. "Those things stick with me because as adults, don't we have an obligation and responsibility to tell them, not only is there a counselor down the hall you can talk to, but to say, 'Hey, yeah this stuff sucks. It sucks so bad. What are you thinking about? How can I help you process this?'"
Muñoz wanted to connect the lesson to something he'd been thinking about over the winter break: how history belongs to the people.
"History doesn't belong in universities only. It doesn't belong to old dudes like me wearing blazers with elbow patches," said Muñoz, who was indeed wearing a blazer. "When your abuelita tells you a story about growing up in Mexico, that's history. When your grandfather talks about segregation in the South and what he went through there, that's history."
Muñoz shared the definition for coup d'état, the removal of an existing government by violent means. He said that while Wednesday's events didn't succeed in that way, they could be described as a coup de main, a sudden attack in force.
He talked about coups in other countries, including the 1973 coup in Chile, when the country's U.S.-backed military overthrew an elected president and replaced him with a dictator. He explained how young people who grew up during the dictatorship weren't taught their country's history, and he showed a video of Chilean students talking about the hurt that caused them.
"Eventually, the historical truth comes out," Muñoz said. "So it's important that we think about what our voices look like in history."
Muñoz ended the class with a song: Common's "Letter to the Free." Muñoz muted himself for the first time in 50 minutes. As the song played, he mouthed the lyrics.
"Freedom. Freedom come. Hold on. Won't be long."
Need help knowing what to say to kids about January 6th's violence at the US Capitol? Find ParentsTogether's step-by-step explainer here.