Keeping kids safe online can seem daunting, especially when the internet, our kids' favorite apps, and social media platforms all seem to change daily. How can we protect our kids from online predators?
While there's no one right answer, there are some great starting places. First, educate yourself about some of the dangers. Then talk to your kids (and keep talking to them!) about this important issue—we have scripts that can walk you through those tough conversations to help ensure you end up with both stronger protections online, and a stronger relationship with your child.
Learn more about online predators and other dangers on the internet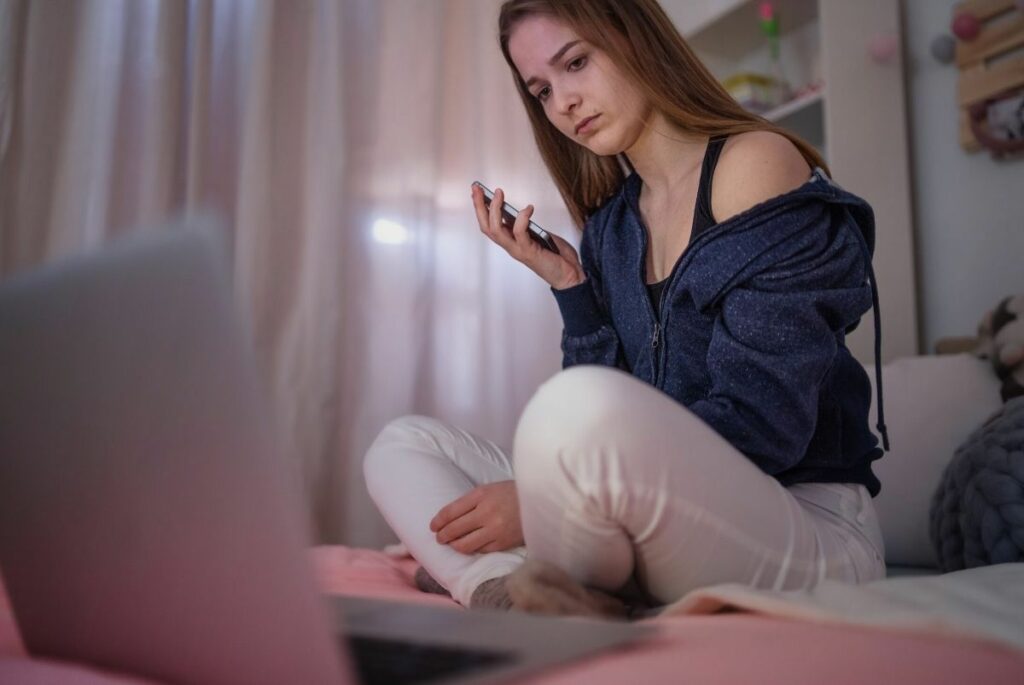 Online grooming might seem like something that's too scary to even really happen, but since the start of the pandemic there's been a 97 percent increase in the inappropriate online enticement of minors by adults across the internet. Furthermore, a recent study revealed that almost 40 percent of kids with smartphones had either received or sent sexually explicit messages or content by the age of 13. And it can start even earlier, especially for girls: more than 15 percent of 8-year-old girls in the study had been exposed to sexting. So now more than ever, it's an extremely important topic to be aware of.
First, review the red flags of online grooming in this article—there are things you can look out for, and things you child can watch for, too.
We also provide things you can say to help your child say safe. For example, teaching your child to be wary of others asking them to keep "bad secrets" will ensure they know to come to you when questionable situations come up. (See how this conversation might look in this video.)
It's hard to keep up with the ever-changing landscape of social media platforms and apps, so periodically do a check-in to see which ones your kids use—and which ones have been deemed dangerous for kids, sometimes making it far too easy for adults to connect with children or meet them in real life. Start with these 15 apps that police have warned parents about, and then check these extended lists of the most dangerous platforms and apps.
Of course kids can understandably get defensive if they feel their choices and social hangouts are being attacked. It helps to connect first with kids, showing them that you understand what they love about their favorite platforms. Knowing the pros and cons of the most popular social sites is a great way to meet kids where they are.
Talk to your kids about online safety
Frequent conversations with kids are the key to driving home the importance of staying safe and avoiding predators and child sexual abuse material (CSAM) on the internet.
Learn more about what to say (and why!) to help kids understand the importance of these basic online safety guidelines in the full article.
Speak to them specifically about meeting people online, and how to recognize when someone is dangerous or perhaps is not who they say they are. A helpful framework is to talk about "safe online friends" and unsafe ones—and be sure to remind your kids that they can always come to you if they're scared or uncomfortable about something online, and that they WON'T get in trouble. Here's a script that can help.
Here's what a conversation like that might look like:
Despite our best efforts, kids will sometimes still be exposed to CSAM pictures or other media as they navigate the internet. It's best to have a discussion beforehand about what to look out for and how to handle it—see below for helpful talking points, and find more details in the article.
If they've actually been contacted by a predator online, it's extremely stressful and upsetting for both you and your child. Take the power back by knowing exactly what to do.
Warn kids specifically about sextortation, when scammers manipulate people into sending compromising photos or videos in order to blackmail them for money or valuable information.
In the event that sexual material containing images of your child are shared, leaked, or hacked, follow our step by step guide for getting explicit material removed from the internet.
On a more positive note, talking to kids and teens about safe and healthy social media habits can be an ongoing, everyday discussion. Here are some great conversation starters:
It's important to discuss directly how social media can make kids and teens feel about themselves. Here are some questions to get them thinking:
Take action
Before your child even gets their first phone, use this guide to determine whether they're really ready. You can also consider alternatives to an internet-connected smartphone, especially for younger or less mature kids.
And when kids DO get their own device, be sure to set clear expectations, with clear consequences, about appropriate and inappropriate phone use.
Helpful videos
Check out our online safety video series below for more insights and things to say to kids about online grooming, avoiding predators, self-generated CSAM (nude or otherwise compromising photos and videos that kids are tricked or blackmailed into creating themselves), and more.
What to say to limit kids' screen time on addictive apps and platforms
On kids being tricked or blackmailed into creating self-generated CSAM
First, understand that the risk to our kids might be more complicated than most parents realize.
It also really helps to understand the connection between how we (and others) tend to interact with kids on a daily basis, and how that can contribute to their vulnerability.
If they've already shared a photo they regret
If you find yourself in this situation, our step by step guide for getting photos, videos, or other material removed from the internet, how and where to report it, and addressing the issue with your child can help.
Checking in with kids about sending nudes
Talking online safety with other parents
Kids are often exposed to screen time while at other people's houses, so you can also bring up these online safety conversations with the parents or caregivers of your kids' friends.
How comprehensive sex education at school can help keep our kids safe
Want even more? Visit our Instagram Guide full of online safety tips for kids.