Chances are you're already thinking about—and working on!—how to keep your family physically healthy with conscious food, exercise, and hygiene choices. But do you give as much thought to your family's mental health?
Our mental health needs lots of attention and care, too—especially in these times. The earlier kids learn how to tend to their emotional and mental wellbeing, the better they will be able to adapt to the challenges they'll face in life. And the more parents can tune into their own mental health needs, the more capacity they'll have to be the present, supportive parents they wish to be.
The whole family can learn about their mental wellbeing together with these fun, inspiring, and kid-friendly activities. Use this 31-day challenge as a mental health boost that'll bring you closer to understanding your own—and each other's—emotions, stressors, and soothing antidotes.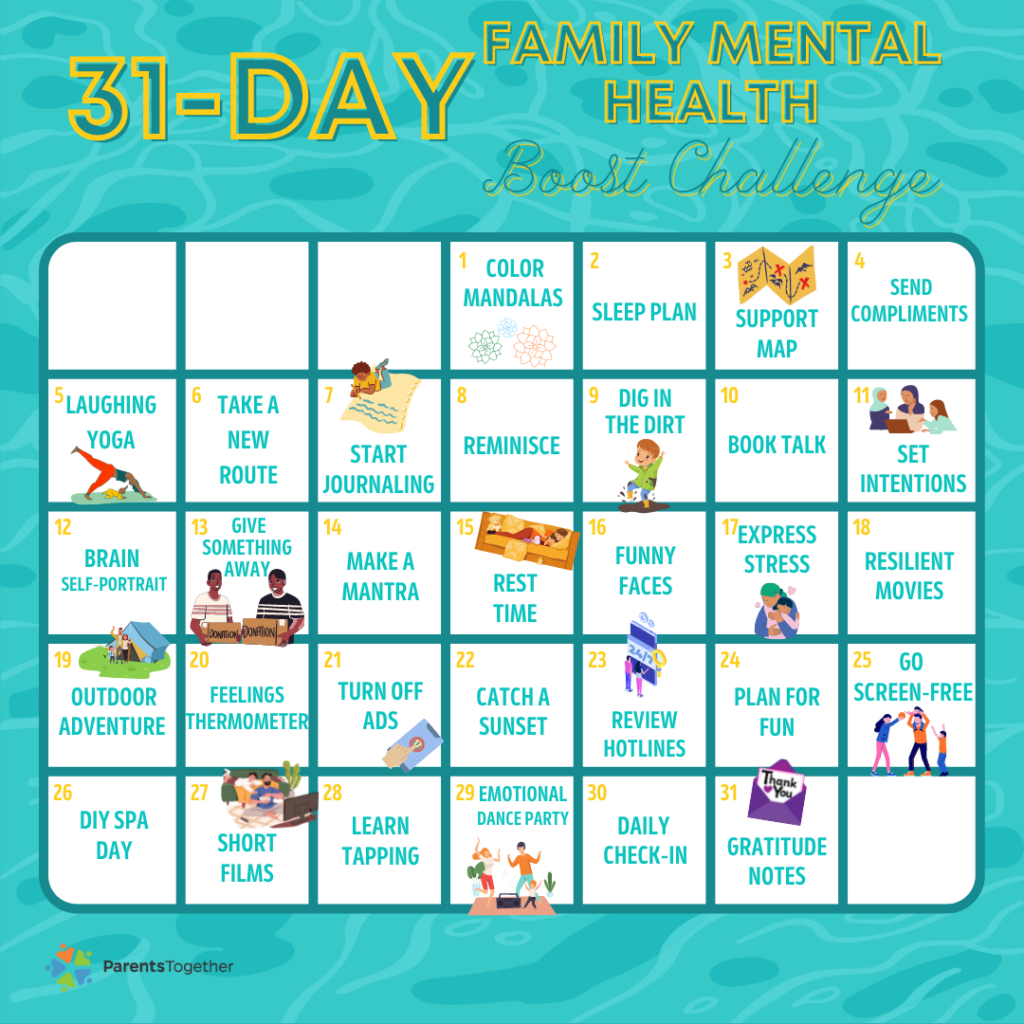 Color mandalas
Coloring can be soothing to kids and adults alike, especially when you really get in the zone coloring a satisfying, circular pattern such as a mandala. Coloring can calm the nervous system and promote mental focus, as well as teach the whole family a healthy way to express emotions. You can find free coloring pages for adults and kids online, or click here to get coloring sheets and other free activities for kids.
Sleep plan
Charge your mental and emotional batteries by getting a great night's sleep! Be proactive and choose a screen-free, family-friendly, sleep-encouraging activity before bedtime, like listening to a bedtime story podcast.
Support map
It's important to remind yourself that you have people in your life you can reach out to when things are rough. Have each family member make a list of people who can support them in different ways. For example: someone who makes you laugh, someone who can help with difficult tasks, someone you can talk through a social dilemma with, someone who tends to respond quickly, someone who gives good hugs.
Send compliments
Giving genuine compliments or saying kind words to others can be a great boost to your own mental wellbeing! It helps you develop a positive outlook for the day, as well as create better relationships with those around you—which comes with the bonus benefit of nurturing your support network. Brainstorm some specific compliments kids can give to friends, teachers, and family members (and try to encourage them to think beyond physical appearance).
Laughing yoga
It might sound a bit zany, but there's a yoga practice where all you have to do is laugh. Laughter can help reduce stress, depression, and anxiety, and improve self-esteem, among many other mental and physical health benefits. Here are some ideas for laughter yoga games with kids. Even if you start the session with a forced laugh, it actually becomes genuinely funny before you know it!
Take a new route
Doing something as simple as taking a walk down a block you're less familiar with, getting off at a different bus or train stop, or driving on a backroad/scenic route can nudge you out of being on autopilot and make you more appreciative of the world around you. Let kids pick a new route (within reason) and ask them what new things they notice!
Start journaling
Writing out your emotions and negative or positive experiences has many mental health benefits. These journaling prompts for the whole family can help you get started. If you don't think you'd be into keeping a traditional daily journal, you can find another structure that works for you: jotting down one thing you appreciated that day, writing lists of things you noticed that day with your five senses, or even mindless doodling.
Reminisce
Research shows that regularly discussing details of both positive and negative past experiences with kids is great for their mental health. This reminiscing helps them feel like an important part of the family, and better equips them to deal with obstacles in the future. Try prompting dinnertime conversations with questions like: "What do you think is different about this school year versus last year?" or "Do you remember the time we forgot to bring bathing suits to the beach?"
Dig in the dirt
Gardening has been shown to lead to reduced levels of depression and anxiety, plus an increased sense of life satisfaction. Digging in the dirt actually releases helpful microbes into the air you breathe that can make you feel relaxed and happy. Plus, kids can learn a lot from it! If you don't have a yard or garden, you can still reap the benefits by taking care of houseplants, planting in window boxes or a container garden on your front stoop, or volunteering at a local park to plant trees or flowers.
Book talk
Choose a book to read with your child (for older kids, you can read separately but around the same time) that addresses emotional, behavioral, or learning challenges kids can face. Even if your child can't relate specifically, they'll learn to empathize with others who face those challenges. Ask discussion questions like "Have you ever felt like that?" or "If you were friends with the main character, how do you think you could have been a good friend?"
Set intentions
Help kids learn how to set intentions for the day, or for the week—and say your own intentions out loud too. Intentions are positive statements that help set you up for mindful behavior. For example: "Today, I will raise my hand if I need help" or "Today, I will keep my voice calm and respectful even if I get frustrated." It's a quick exercise that you can do over breakfast or on the way to school.
Brain self-portrait
Have each family member draw a picture of what's inside their mind. Keep it open-ended, and then ask each person to explain what they created. Chances are you'll learn something about each other and yourselves.
Give something away
Giving things (or money) away is not only great for your recipients—it can also make you happier and more grateful, and strengthen your social connections. So find something to contribute to in your community, like a book or clothing drive, or a fundraiser for a local organization or family who needs support.
Make a mantra
Help positive affirmations become part of your kids' (and your own) internal voice by displaying them all around in places you'll see often. Get started with our free positive mantras for kids that you can print out or copy! Then use tape, magnets, or even frames to display them on the walls, the fridge, by the bathroom mirror, and on the front door so everyone sees them on their way out into the world.
Rest time
Even if your kiddos are not at napping age, you can still start a "rest time" or "quiet hour" tradition on the weekends where everyone commits to quiet, screen-free activities like reading books, coloring, doing a puzzle, or sitting with a cup of tea. It'll be a valuable way for adults and kids alike to recharge your mental energy for the week.
Funny faces
Identifying and discussing different feelings is an important skill for the whole family's emotional and mental wellness. To make it fun, name an emotion (like scared, frustrated, or excited) and have the whole family make faces representing that emotion—or turn it into a game of charades and try to guess which emotion each person is acting out. Take selfies, and you'll have a whole album of gems to look back on and discuss!
Express stress
To build empathy and community between members of a group, The Imagine Project suggests a writing exercise where kids (and adults) express what they're stressed about by writing several sentences that start with "Imagine…" so that others can imagine what it's like to be them. Try it with your whole family, and you're all bound to gain a deeper understanding so that you can better support each other's needs.
Resilient movies
We all want our kids to be able to learn from challenges and bounce back from difficult experiences. Why not inspire them with a movie night? Pick from this list of movies that teach resilience and grit.
Outdoor adventure
Mix up the routine by doing something outdoors as a family that you wouldn't normally do: take breakfast to go and eat it on the beach, bike to a store you'd normally drive to, or sleep out on the porch with sleeping bags. You'll get some extra fresh air and time away from screens, plus you're bound to notice new things—both of which are good for your brain and happiness levels.
Feelings thermometer
Print out a feelings thermometer or have kids help you make a feelings chart. Review all of the emotions on the chart, and brainstorm coping strategies for each one. You'll feel more prepared for the next time someone's mood is bringing them (and the rest of the family) down.
Turn off ads
Ads and commercials are usually designed to make you feel like you're missing something in life—so that you'll buy something to try to make yourself happier. Free your family from getting sucked into this draining mindset by being more conscious of ads: so when ads play on your favorite show, mute them and encourage the family to do something else rather than stare at the screen. For example, take a stretching break, go brush your teeth, or have a family discussion about the show. You can install ad blockers on all your devices too, to cut down on ads your family is shown on the internet.
Catch a sunset
Take a few minutes to admire the sky at the end of the day, or a sunrise at the beginning of the day. Ask kids what colors they see and if they notice the sky getting darker/lighter—or just bask in a quiet moment of awe together.
Review hotlines
Make sure older kids know that you're always there to talk, but that there are other resources out there if they or their friends are ever in distress about something and don't know where to turn. You can even share or print out a list of hotlines/text lines/chat lines for youth—such as Teen Line, Teen Link, Love Is Respect (for relationship issues or dating violence), and The Trevor Project (for LGBTQ or questioning youth)—that they could have on hand, program into their phone, or share with friends.
Plan for fun
Having something exciting to look forward to can boost your mood for several weeks! So team up as a family to plan something fun for the future…like a dinner party, a day at the zoo, or an overnight road trip. Keep a running list of realistic ideas for the outing that everyone can contribute to, like a menu, packing list, or top landmarks to stop at.
Go screen-free
Set aside an entire day, afternoon, or evening to go without electronics as a family. After you've all agreed on the best time to try this challenge, start it by turning off all devices and keeping them in a designated place. Beforehand, ask kids (and adults) what they think will be challenging about their time without screens. Afterwards, reflect on what you learned about your relationship to technology—and what you appreciated about your screen-free day!
DIY spa day
Ask each family member what makes them feel physically relaxed and cared for: for example, a bubble bath, a foot rub, relaxing with a cup of tea, or having someone else style their hair or nails. Then set up a time and space for each person to get the "treatment" they want—at home. And don't forget to "book" your own treatment!
Short films
There's something about great short animated films that can really catch your emotions and open up your heart. Try watching one with a mental health theme such as The Present, Hair Love, Dia de los Muertos (for most ages); or Kitbull, How to Float, Nightmare at School (for older kids). Preview the films first to determine if they're appropriate for your kids.
Learn tapping
EFT (emotional freedom technique) tapping is a method that's growing in popularity for lessening stress, anxiety, fear, depression, and the effects of trauma. That's because it's very easy to learn and easy to do in any situation. And even if you don't really believe in the effects, it can still help—or at the very least, not hurt! Learn 3-5 of the tapping points, practice tapping together while taking deep breaths, and give kids examples of when to use these techniques.
Emotional dance party
For your next family dance-off, pick a few songs that have different moods (angry, happy, sad, etc.) and tell kids to move the way the music makes them feel. As your family sways, bounces, and thrashes, you'll all be reducing stress levels and expressing any bottled-up emotions.
Daily check-in
Introduce an emotional "check-in" process at dinnertime, after school, or bedtime. It can be very simple: Ask each person (including yourself): "What's one thing you had trouble with today?" and "What's one thing that made you happy today?" This daily check-in will teach kids that it's helpful to talk about both positive and negative emotions, and that everyone (even grownups!) deals with challenges every day.
Gratitude notes
Practicing gratitude can make you happier, less stressed, and more optimistic overall. And reaching out to others to tell them they're appreciated can boost their moods as well! Write little notes for your family members expressing one or two things you really appreciate about them. Brainstorm with kids who they can thank and what, specifically, they could thank them for. Here are some printable thank you note templates to help!
If you enjoyed this, check out our other 30-Day Challenges for families!
And don't forget to get your free printables for each of these fun and connection-building challenges!