The baby shower is over, and you have enough cute onesies and copies of Goodnight Moon to last until you're a grandparent. What you probably don't have is a reliable breast pump—according to the National Women's Law Center, the majority of women plan to breastfeed but a much smaller percentage actually do after being released from the hospital or birthing center. Having the proper support and equipment can greatly increase the odds of breastfeeding success.
When it comes time to head back to work, let a partner take their turn at feeding time, or just catch up on some well-deserved sleep, a good breast pump can be your (and your baby's) new best friend. Even better: Did you know that your breast pump could be covered through your Medicaid plan?
Location, Location, Lactation
When it comes to getting a breast pump via Medicaid, different guidelines apply for each state—some offer coverage only under certain conditions, for certain periods of time, or for certain types of equipment. There might also be differences based on whether you need to purchase or rent the pump (and not to worry, even if you rent, all the parts that touch your body or the milk are always brand new). 
So, unfortunately there's no definitive yes-or-no answer to whether or not Medicaid covers pumps, but you can visit the Medicaid website for specifics in your state. You can also check out The Special Supplemental Nutrition Program for Women, Infants, and Children (WIC) for alternative support programs. They also provide a list of questions you can ask your insurance or Medicaid provider to get the full picture.
Be sure to know your breastfeeding rights, as well. Under law, employers are required to provide a reasonable break time for expressing milk during work hours, for up to one year after the child is born, and a clean, private place to do it (read: not a bathroom). You can consult the U.S. Department of Labor's frequently asked questions page and fact sheet for more information and details on what to do if you feel those rights aren't being honored.
What You Need To Get Your Breast Pump Covered
All Medicaid plans require the covered supply to be deemed medically necessary by a doctor, so be sure to discuss your plans with your healthcare provider as early as possible. The medical necessity can be yours, or your baby's. Reasons for medical necessity include: 
Inverted nipples
Premature birth
An oral defect
Breast infection
Inadequate milk supply
Sometimes a prescription can be given for certain circumstances, such as:
A prolonged NICU stay
The mother needs to return to work or school
The baby cannot latch properly
Talk to your doctor about what your nursing needs are. After your baby is born life will be hectic, so it's good to have the paperwork already prepared.
The Right Breast Pump for You
Now that you know you can get your breast pump through Medicaid, it's time to talk specifics. Not all breast pumps are the same, and that's a good thing! Each woman has specific needs that can be met by finding the right product for them. Keep in mind, sometimes Medicaid will only cover one type of pump, depending on your state and needs.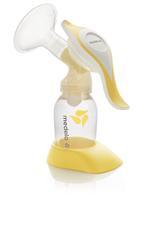 Manual pumps: Manual pumps allow the user to control the suction rhythm by themselves. They don't rely on batteries or electricity, so they can be used anywhere. Typically they are single pumps, meaning they can only be used on one breast at a time. Great for on-the-go use, but a bit more labor-intensive for the user. These pumps are ideal for occasional use when you'll be away from your baby for just a few hours.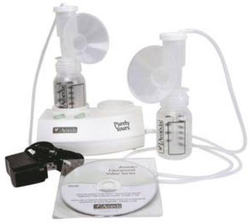 Battery and electric pumps: As the name suggests, these pumps run on batteries, or are plugged into an outlet. They have automatic suction, so no manual pumping is required. Some of these pumps have the ability to mimic your baby's natural nursing rhythm, which helps your body to express milk more easily. These are typically dual models (meaning they pump both breasts at once), so you can get the most milk in one use. If you are on a strict schedule and need to pump quickly and get back to your life, these may be your best option. 
Welcome to motherhood! Things might feel a little overwhelming, but you are not alone—you're taking a great step by seeking out resources like these, to help you take advantage of the programs and products out there to support you in your parenting.
A version of this article originally appeared on Home Care Delivered, an informational website for the medical supply company of the same name, headquartered in Glen Allen, Virgina. Content was reviewed by Terri Decker, RN, CWOCN.