Click to download FREE PRINTABLES of all our 30-day family challenges!

This month, you can get the bucket list in a calendar format or a checklist!
No matter how bummed you (or your kids) are that summer is over, there's plenty to appreciate about fall. Besides the back-to-school season, autumn is an exciting time for savoring seasonal foods, observing beautiful changes in nature, preparing for various holidays, getting cozy indoors, and learning about the world around you.
Try this 31-day challenge for a whole month of seasonal activities that are fun and eye-opening (and just the right amount of spooky) for the whole family. October will never look the same to you again!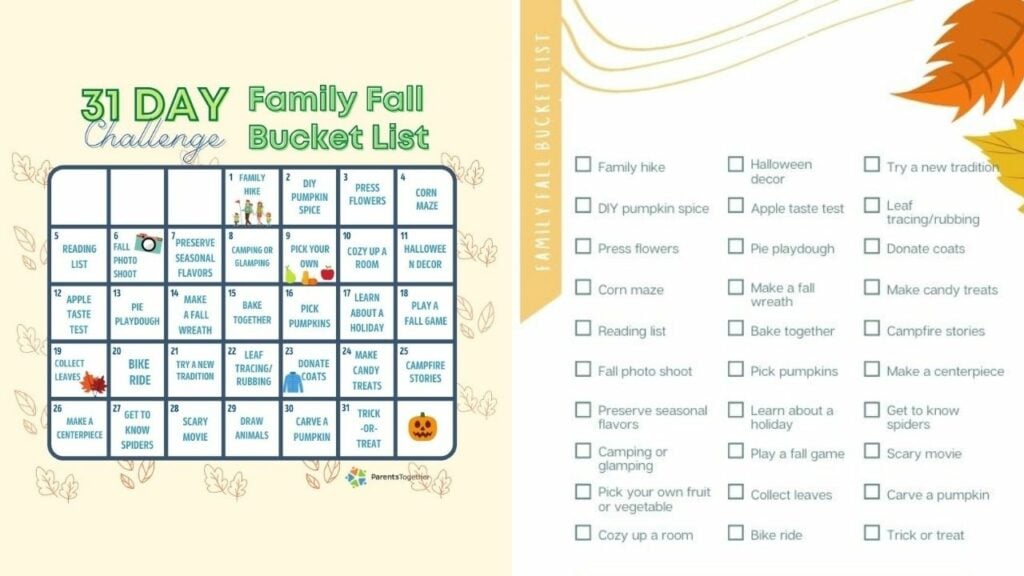 1. Family hike
Find a trail near you for a nature walk to observe the change of seasons. If you don't have nature trails that are accessible in your area, you may be able to take a stroll near a lake, pond, river, or harbor, or plan a walk in a tree-lined neighborhood or public park. Make sure you're prepared for the outing with these family hiking tips.
2. DIY pumpkin spice
Make something with those classic fall cinnamon-y flavors that the whole family can enjoy (and help prepare!). Ideas include: pumpkin spice cookies, pumpkin bread, no-coffee pumpkin lattes, and pumpkin pie milkshakes.
3. Press flowers
Flowers are not just a spring and summer thing—many plants, like mums, still blossom late into the fall. Picking flowers and pressing them is a fun and easy way to preserve the colors of the season. They can then be used for thank you cards, crafts, or wall art.
4. Corn maze
Corn mazes are a classic seasonal activity—and can be a fun (and challenging!) bonding experience for families. Visit Corn Mazes America's directory or search in Google Maps to find a corn maze near you.
5. Make a reading list
To get ready for chillier days and evenings indoors, help each family member research and make a list of books they're interested in reading this year. Make a plan to borrow or buy them by the end of the month.
6. Fall photo shoot
Take advantage of the lovely colors and golden light of fall, and head outside for some family pics! They don't have to be fancy—think full-fam selfies on a pretty path, a parent peeking over the top of a pumpkin, or kids kicking a pile of leaves. Get creative!
7. Preserve seasonal flavors
Find a way to save some of the yummy flavors of fall to savor in a few weeks' or months' time. Make applesauce or pumpkin butter, freeze apple crisp, dry and store apple rings, or try your hand at canning.
8. Camping or glamping
If you don't have the capacity for a family camping trip, try camping in the backyard or the living room. Set up a cozy fort or tent, let kids pack a backpack with flashlights and other equipment, maybe even watch a nature documentary.
9. Pick your own
Find an apple orchard, a pumpkin or berry patch, or a farmers' market or farm stand that you can visit as a family. Together, pick out the fresh fruits and vegetables that look the yummiest. The more kids learn about where their food comes from, the more interested they'll be in eating and cooking with it!
10. Cozy up a room
Have the family decide together how to make a living room, bedroom, or other room a nicer place to spend time during the upcoming winter. You can redecorate together in inexpensive ways by covering pillows, adding houseplants or dried flowers, hanging up kids' artwork, making a beaded or origami curtain, or rearranging furniture to create a reading nook.
11. Halloween decorations
Make your own Halloween decorations by getting creative with pipe cleaners, string, cardboard, markers, and more. Whose house doesn't need an oversized spider web, ghost, or skeleton to get into the "spirit" of things?
12. Apple taste test
Buy a variety of seasonal fruits (like different types of apples or pears), and have a taste test. To make it more fun, slice and label each type with A, B, C, etc. and then vote for your favorites. At the end, reveal the name of the winning variety!
13. Play with pie playdough
Nothing says "autumn" like freshly baked pies, but you can still enjoy them even if you don't bake. With a few simple ingredients you can DIY a batch of apple pie playdough or pumpkin pie playdough to enjoy the scents of the season without even heating up the oven.
14. Make a fall wreath
Collect cones, leaves, small branches, and more from nature, and use them to make a natural wreath for the front door. It's an easy family craft that can lead to discussions about science and nature!
15. Bake together
Making cookies or muffins from scratch can be a perfect opportunity for bonding with kids on a cozy fall day—as long as you plan ahead and find a recipe that is appropriate for their attention spans.
16. Pick out pumpkins
Head to a local farm stand or produce store to pick out pumpkins and gourds of different sizes to put on display at home. Kids can decorate them with markers, paint, sequins, etc.—or just wait until the day before Halloween to carve them!
17. Learn about a holiday
It's not all about Halloween. If there's an autumn holiday you're not too familiar with yet (like Día de los Muertos, Chinese Mid-Autumn Festival, Diwali, Fall Equinox, or Yom Kippur), expand your worldview and research it together as a family.
18. Play soccer or football
Get outside to kick around a soccer ball, toss a football, or take part in your favorite fall sport. Show your kids that adults don't only watch sports on TV!
19. Collect leaves
Especially if you live in a region where the leaves change colors, collect a variety of leaves in different colors and shapes and compare them. You're bound to notice something you've never noticed before. Even if you don't see the changing colors where you live, you can still collect 5 different shapes of leaves (including evergreen needles) and then research online or in a tree identification book to find out which trees they are from.
20. Bike ride
Get out for a family bike ride. Plan out your route, bring a picnic lunch or money for a sandwich shop that's on the way, and make a day of it.
21. Try a tradition
The fall is known for lots of traditions—from fall festivals to sipping cider, haunted houses to hay rides, use this time to revisit a family fave or decide together on something new to try!
22. Leaf tracing/rubbing
Trace leaves of different shapes, and/or do crayon rubbing to capture the texture of the leaves. If you're feeling inspired, make the drawings into thank you cards or nature-inspired decorations.
23. Donate clothes and coats
As the weather turns chilly, it's important to remember that not every family has cozy clothing to keep them warm. Have your kids help you look for coats, mittens, sweaters and hats that don't fit anymore or aren't in use. Find a local organization to donate them to, post them for free on your neighborhood message board, or (if allowed) leave them at the curb in a box labeled "free" for neighbors to take.
24. Make candy treats
Whether you bought trick-or-treat chocolate ahead of Halloween or always have some candy on hand, dip into your stash of sweets together and enjoy some special recipes made with Halloween candy! From cookies loaded with chopped-up mini candy bars, to sweet-and-salty party mix, to M&M oat bars or Snickers ice cream sandwiches, spend some time in the kitchen as a family and celebrate a little early! (You'll be sure to want to try this again after Halloween to use up some of the kids' sugary loot.)
25. Campfire stories
Whether you have a fireplace or outdoor fire pit or not, you can recreate the concept of telling ghost stories around the campfire. Use candles, lanterns, or flashlights to create a spooky mood, and take turns telling stories. Find age-appropriate ghost stories, or have a Halloween read-aloud. Or you can create a completely new tale together by going around in a circle and adding to the story one line at a time!
26. Make a centerpiece
Collect cones, grasses, berries, acorns, flowers, and more from outdoors to make a harvest centerpiece that captures the colors of fall. You can use it to spruce up your next family dinner.
27. Get to know spiders
Spiders are not only a creepy symbol of Halloween (and of fear in general) but they are also an important part of nature. No matter how spooked you are by them, they're fascinating creatures that you and your kids may have fun learning more about! Start with these common spider myths and also look for real-life webs you can observe, plus cool videos about spiders capturing insects or the strength of spider silk.
28. Scary movie
Find an age-appropriate spooky-ish movie (that won't keep your little ones up with nightmares) to watch as a family using Common Sense Media's carefully vetted recommendations. For younger kids, make it an afternoon viewing to allow space to talk about it and act it out before bedtime creeps up on you.
29. Draw animals
Bring your sketchbooks and pencils, and head to a park, petting zoo, or farm to observe animals—anything from worms to squirrels to cows. Ask questions to help kids compare the animals and see what details they observe. Then ask, if they were going to dress up as one of these animals for halloween, how would they create the costume?
30. Carve a pumpkin
Get your hands dirty and scoop out and carve a pumpkin to display in your window or outside your door on Halloween night. Have kids design it first with markers, and help with the knife cuts. Bonus: Season and roast the pumpkin seeds too for a seasonal snack!
31. Trick-or-treat
Go trick-or-treating, pass out candy, or set up and decorate a festive grab-and-go candy station outside your front door. Take ideas from last year's pandemic Halloween to consider how to make it safe and fun for neighborhood kids (or the friends/family whom you invite to take part instead).
If you enjoyed this, check out our other 30-Day Challenges for families!
And don't forget to get your free printables for each of these fun, connection-building challenges!